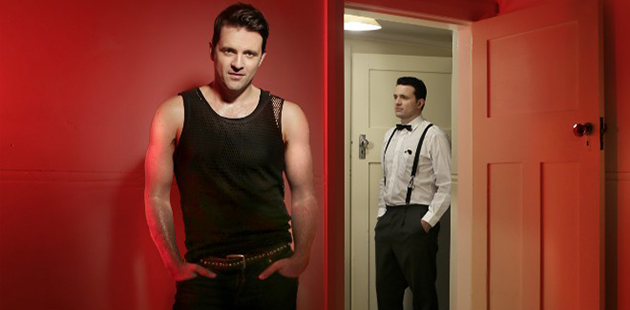 A remarkable reflection on gay identity and sexual liberation, from the repressive past to the more liberated present day, Alexi Kaye Campbell's Olivier Award-winning play, The Pride will receive its highly anticipated Sydney Premiere on 9 February at the Eternity Playhouse as part of the 2016 Sydney Gay and Lesbian Mardi Gras.
Two parallel love stories shift between 1958 and the present day. In 1958, Oliver and Philip fall for each other but are forced to be strangers to desire and themselves. In the rainbow-stickered present, anonymous sex and empty style collide with the human heart.
Celebrated director Shane Bosher, nominated for a 2015 Sydney Theatre Award for his direction of Cock, has assembled a stellar cast in Matt Minto (Cock, Angels in America), Simon London (The Hobbit II and III, Edward III), Geraldine Hakewill (Platanov, Wanted) and Kyle Kazmarzik (Blood Wedding, Much Ado About Nothing).
Following rave reviews when it premiered in London in 2008, Bosher is thrilled to bring this highly topical and deeply passionate play to Sydney. "There's a lot to be said for a love that dare not speak its name," says Bosher. "The Pride is one of those plays that gets under your skin. It brilliantly counterpoints ever-changing attitudes to love and sexuality with both audacity and wicked humour.
"It's brave enough to talk about the fear of being unloved and of never being able to be yourself. Brilliantly articulating the bold sacrifices we sometimes have to make to achieve happiness, it also provokes questions about the benefits of liberation: does it actually get better? I think audiences will travel into the night hopeful, but thinking and talking about it for days afterwards."
Alexi Kaye Campbell is an award winning playwright and screenwriter. Before turning to writing, he worked for many years as an actor. His work included seasons at the Royal Shakespeare Company (RSC), The Royal Court, and with Shared Experience.
The Pride (The Royal Court, 2008) was his first play and sold out following critically-acclaimed reviews and word of mouth recommendations – winning him the 2009 Critics Circle Award for Most Promising Playwright and the Olivier Award for Outstanding Achievement in an Affiliate Theatre.
Kaye Campbell's other work for stage includes: Apologia (2009), The Faith Machine (2011) and Bracken Moor (2013). His latest play, Sunset at the Villa Thalia will premiere in May at the National Theatre. His first film script, Woman in Gold featuring Helen Mirren and Ryan Reynolds, was the highest earning independent film of 2015.
"The writing is witty and zesty, the pace taut and the structure neat." – The Independent, UK
Director: Shane Bosher  Featuring: Geraldine Hakewill, Kyle Kazmarzik, Simon London, Matt Minto  Set Designer: Lucilla Smith  Costume Designer: Lisa Mimmocchi  Lighting Designer: Verity Hampson  Composer & Sound Designer: Marty Jamieson  Stage Manager: Angharad Lindley
The Pride
Eternity Playhouse, 39 Burton Street, Darlinghurst
Season: 9 February – 6 March 2016 (previews: 5 – 7 February)
Bookings: (02) 8356 9987 or online at: www.darlinghursttheatre.com
For more information, visit: www.darlinghursttheatre.com for details.
Image: The Pride – photo by Helen White