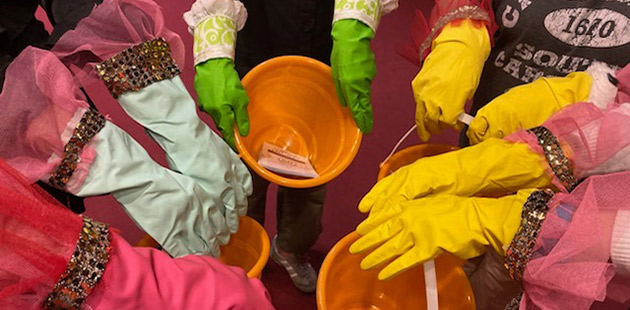 The Victorian Actors' Benevolent Trust (VABT) has assisted  thousands of entertainers and performing arts professionals for more than 60 years and now, more than ever, needs public support.
The COVID-19 pandemic has had a wide-ranging and devastating financial and psychological effect on the livelihoods of those in the arts and entertainment industry in Australia and worldwide with thousands of events, festivals and concerts cancelled or postponed in 2020.
Performing arts professionals face an uncertain future as cancellations and delayed production wreak havoc on the industry, impacting the job stability, vital income and mental wellbeing of individuals for the next six months with no clear end date.
Each year, the VABT raises much needed funds through in-person bucket rattles at performances. With theatres dark across the state, they have decided to go VIRTUAL and hold the BIGGEST bucket rattle in VABT history to support Victorian artists and crew who are experiencing a health crisis or medical emergency.
The Victorian Actors' Benevolent Trust has pledged to support artists and arts workers in need over the upcoming months by hoping to raise $50,000 in donations via the VABT Virtual Big Bucket Rattle on Tuesday 12 May 2020.
VABT President Sally-Anne Upton said this donated amount would really help performing arts professionals in need. "The arts and entertainment industry has a proud history of coming together to donate time and money to those in need, as witnessed by the recent bushfire emergency, and now we need the arts patrons and festival-goers of Victoria to support them," she said.
"The money raised by donations will be available to actors and entertainers in need to help pay for essentials such as food, utilities, and other necessities such as ongoing medical expenses," said Ms Upton.
The VABT is a not-for-profit organisation run by volunteers to support, listen and advocate for members who have fallen on hard times or need a helping hand. They provide a wide range of crisis relief services such as emergency financial assistance as well as access to mental health services and emotional support.
The Victorian Actors' Benevolent Trust has assisted thousands of performers since its inception in 1958. Actors, producers, arts administrators, casting, legal, marketing and publicity professionals staff the volunteer committee. The VABT affords its beneficiaries complete confidentiality.
"Now more than ever, we need the performing arts in our lives and this means supporting those who make us laugh, cry and feel and escape our everyday reality," said Ms Upton. "The Fund will continue to innovate, create and foster strong connections for the community and industry, even in isolation, and with the Victorian public's help, we'll come out the other side together."
One of VABT's biggest supporters for their regular bucket rattles is Melbourne Theatre Company and they are lending their support to the virtual bucket rattle. Brett Sheehy, artistic director and CEO of MTC remarked, "Live performance wouldn't be possible without the artists and crew who are so essential to our community and to what we do at MTC."
"This extraordinary situation has had a devastating impact on the working and personal lives of those in the entertainment industry, including the many who form part of our MTC family – our beloved actors, writers, directors, designers, technicians, and show crew who have been overlooked by the federal government's JobKeeper scheme."
"To support our arts community in need, we've partnered with the Victorian Actors' Benevolent Trust for their VABT Virtual Big Bucket Rattle on Tuesday 12 May. This special day will be raising money for their COVID-19 Emergency Assistance Fund that is providing much needed support to Victorian-based artists and crew," said Mr Sheehy.
Donations can be made at www.vabt.com.au to reach the $50,000 target – which will help provide crisis relief services to actors and crew directly affected by the COVID-19 pandemic.
Image: The gloves are on at a recent VABT Bucket Rattle – courtesy of the Victorian Actors' Benevolent Trust