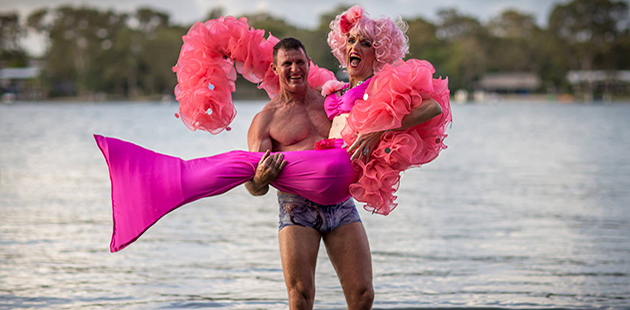 The 2016 Noosa Rainbow River Festival set a high benchmark for fun and fabulousness on the Sunshine Coast last year, organisers will be turning up the volume on the post-Mardi Gras party scene with the return of the second Noosa Rainbow River Festival: 17 – 19 March 2017.
"After the success of last year's Festival, we are excited to build an even bigger, more fabulous community event for 2017, says Organiser Kirsty Patten. "The weekend of fabulous festivities kicks off with sunset cocktails on Friday carries through the weekend and culminates in a family-friendly picnic and Pink Flamingo-themed River Parade."
"Come along, be flirty, be daring and definitely be fabulous! There will be plenty to look at and lots of activities planned – so you definitely don't want to miss this," added Patten.
The Rainbow River Festival commences at the Noosa Yacht Club on Friday 17 March with welcome sunset cocktails overlooking the stunning Noosa River before moving on to the Villa Noosa where Noosa's favourite Drag Queen, Melony Brests will be dropping her balls in her famous Melony's Drag Queen Bingo. Dinner before the show is an option.
on Saturday 18 March, Melony Brests will host The Pink Stiletto walking rally from 11.00am to 1.00pm – loads of fun topped off with a special prize for the winner. That night you are invited to the V Room at the Villa Noosa for the RRF Spectacular Extravaganza of entertainment featuring The Powder Puff Girls plus Gambler and the Angela Toohey Trio. Stay late and party the night away with a special guest DJ.
On Sunday 19 March, everyone is invited to gather for a BYO picnic in the park alongside Noosa River at 10.00am, before joining the main event at midday – The River Parade like you have never seen before. Hire a boat, bring your own boat or join the official Rainbow Party boat on a 2 hour fun-filled adventure up and down the scenic Noosa River and canals.
Later that day, farewell drinks will happen at the stylish Red on Thomas bar on Gympie Terrace, as Noosa extends a warm invitation for you to return next year and do it all again – bigger, better and even more outrageous!
The 2017 Noosa Rainbow River Festival runs 17 – 19 March. For more information, visit: www.rainbowriverfestival.com.au for details.
Image: Geoff Marshman and Melony Brests at the 2016 Noosa Rainbow River Festival (supplied)