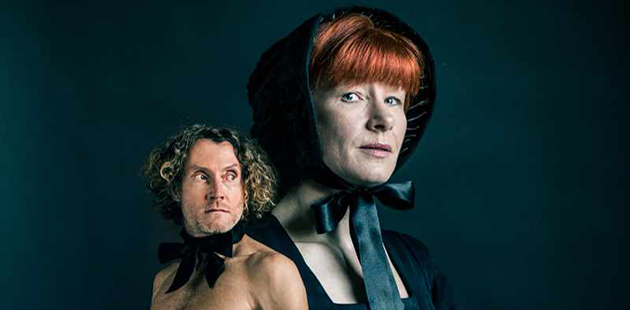 A unique exploration of identity, gender roles, sexuality and what it is to write your own story, Red Stitch presents the Australian premiere of American playwright, Jen Silverman's vividly bizarre, The Moors for a limited season from 10 June 2017.
Part gothic thriller and part black comedy, The Moors is a tale of seething tensions and repressed passions tormenting Agatha and Huldey, who are eking out an isolated life in the wild and inhospitable heath.
The bleak moors of England. The bleakest. The two sisters – one desperately unhappy, the other resolutely miserable – live with their elder brother, a scullery maid and their mastiff in a gloomy, old mansion. When a governess is summoned to their isolated home teeming with secrets and desires, what price might they pay for love?
Inspired by the lives and works of the 19th-century novel-writing Brönte sisters, Silverman harnesses the trappings of Victorian storytelling, suppressed eroticism, exquisite melodrama, and societal ills and exposes them through the portrayal of women in terrible living conditions – but with a contemporary twist.
Making his Red Stitch debut, The Moors will be directed by Stephen Nicolazzo of Little Ones Theatre (Dangerous Liaisons, Dracula and Psycho Beach Party) – a queer theatre company dedicated to investigating gender and queer aesthetics.
They have a reputation for making theatre featuring ambitious production values with broad, and sometimes bawdy, appeal. From Oscar Wilde and Bram Stoker to Charles Busch and Christos Tsiolkas, their productions are a mix of cinematic, literary, and cult references that are wild and visually striking.
The production will feature Red Stitch ensemble members Olga Makeeva, Dion Mills and 2017 graduate ensemble member Grace Lowry, alongside guest actors Alex Aldrich, Zoe Boesen and Anna McCarthy, with set & costume by Eugyeene Teh, lighting design by Katie Sfetkidis, and composition and sound design by Daniel Nixon.
Director: Stephen Nicolazzo Featuring: Alex Aldrich, Zoe Boesen, Grace Lowry, Olga Makeeva, Anna McCarthy, Dion Mills Set and Costumes: Eugyeene Teh Lighting: Katie Sfetkidis Composition and Sound: Daniel Nixon Assistant Director: Katy Maudlin Stage Manager: Jacinta Anderson Assistant Stage Manager: Alyssa Hall
"[Silverman's] inspired new play, The Moors, rolls out like the stuff of dreams are made of. Deep and grim yet playfully buoyant" – The New York Times
The Moors
Red Stitch Theatre, Rear 2 Chapel St, St Kilda East
Season: 10 June – 9 July 2017 (previews continue to 9 June)
Information and Bookings: www.redstitch.net
Image: Dion Mills and Olga Makeeva feature in The Moors – photo by Rob Blackburn