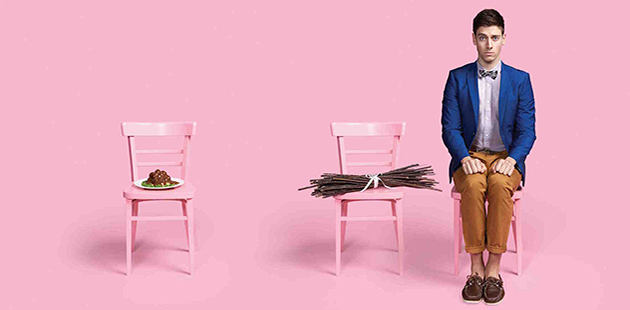 It will be very funny and potentially very offensive, but one thing's certain – it'll be the talking point of the season, as The Homosexuals, or Faggots reunites playwright Declan Greene with director Lee Lewis in a farce of epic proportions at Melbourne's Malthouse Theatre from 22 February, before heading north to The SBW Stables Theatre in Sydney from 17 March 2017.
Warren and Kim are happily married – or as happily 'married' as two rich, white gay men in Australia can be. They have it all – a small dog, a joint gym membership and a 20sqm apartment with stunning views. But in 2017 if you offend the wrong person your life will go straight down the Twitter-toilet.
The two men are preparing for a party in highly offensive costumes when they are surprised by an unexpected guest: a highly offend-able academic. To survive this night with their PC reputations intact, these homosexuals will have to negotiate a moral minefield (in heels).
How will he placate an angry radical-queer academic who already loathes gay men? Lies, lies and more lies. Throw in an Instagram affair, a missing baggie of cocaine, and a burglar (naturally), and you've got a very Australian version of a classic farce, laced with black-comic political intrigue.
From one half of queer theatre outlaws Sisters Grimm, the brilliantly subversive Declan Greene (I Am A Miracle, Calpurnia Descending, Moth, Pompeii) The Homosexuals, or Faggots will venture where many fear to tread, as he asks some tough questions of his own community: White Gay Men. How was marriage ordained as the #1 LGBTIQ issue of our time? Why do some colours in the rainbow flag get to shine brighter than others? And when was it, exactly, that gay men stopped throwing bottles and started buying Prosecco?
The production will be directed by Lee Lewis, current Artistic Director of Griffin Theatre, whose recent production of The Bleeding Tree won three Helpmann awards including Best Director, Best Female Actor and Best Play.
"Declan has written some of the most shockingly funny and some of the most deeply compassionate sentences I have ever heard on the Australian stage – and I want him to do it again." – Lee Lewis
Director: Lee Lewis Featuring: Mama Alto, Simon Burke, Simon Corfield, Genevieve Lemon, Lincoln Younes Set & Costume Design: Marg Horwell Lighting Design: Trent Suidgeest Sound Design & Composition: Steve Toulmin Assistant to the Director: Charles O'Grady Stage Manager: Rhianne Perrie Writer: Declan Greene
The Homosexuals, or Faggots
Merlyn Theatre – The Coopers Malthouse, 113 Sturt Street, Southbank
Season: 22 February – 12 March 2017
Information and Bookings: www.malthousetheatre.com.au
The SBW Stables Theatre, 10 Nimrod Street, Kings Cross (Sydney)
Season: 17 March – 29 April 2017
Information and Bookings: www.griffintheatre.com.au
Image: Lincoln Younes features in The Homosexuals, or Faggots – photo by Zan Wimberley