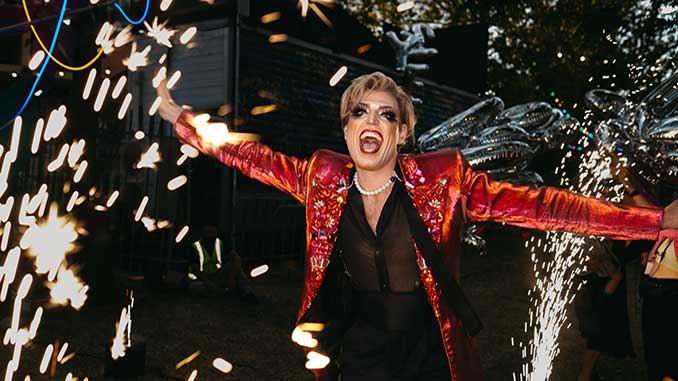 The Garden of Unearthly Delights has closed out an electric season of frivolity and fun at Adelaide Fringe, with a record-breaking box office and shows scoring a plethora of Fringe awards and 5-star reviews there is plenty to celebrate as we look back on the festival season.
In its world debut, The Purple Rabbit was bombarded with 4 and 5 star reviews across the course of the season, with the cheeky magic show selling out over multiple weekends and leaving audiences wide eyed and wondering.
The incredibly hilarious Nurse Georgie Carroll took home Best Comedy with her hugely popular show, Sister Flo 2.0, Raymond Crowe's Unusualism won Adelaide Fringe's Best Magic Show and Holy Bin Amoley won the Sustainability Award.
The Garden was once again the home of comedy at Fringe as regular Garden comedians returned in 2022 to put on sell out shows including Tommy Little, Joel Creasy, The Umbilical Brothers, Lano and Woodley, Rose Noble, Arj Barker and more.
Returning for its ninth year, The Garden Sessions, presented by The Government of South Australia, celebrated local Aboriginal and Torres Strait Islander musicians with free concerts each Saturday afternoon.
Each year The Garden partners with local charities to help raise money for very worthy causes. Fundraising efforts for 2022 were a huge success for the iconic Dulcie's Vintage Bus with proceeds going to the very important Hutt Street Centre, and a Flood Gala Fundraiser was held to support Spaghetti Circus in Mullumbimby who have been affected by the Queensland floods.
About the Garden's 2022 season, Michelle Buxton, Co-Director of The Garden of Unearthly Delights said: "It has been an absolute joy to see people come together again after the last two years of uncertainty and restriction, The Garden has been alive with people socialising and having fun, seeing shows and supporting the arts," she said.
"I am hugely grateful to the South Australian public and the arts community who have rallied around Adelaide Fringe this year by coming out to enjoy live performing arts. We would like to thank the State Government of South Australia and the Federal Government's RISE Fund for their crucial support this year."
"This funding has been essential to ensure we could all get back to work after the enormous impact of the Covid-19 pandemic on our industry. And finally, I would also like to thank the incredible team that make The Garden happen every year," said Ms Buxton.
---
For more information about The Garden of Unearthly Delights, visit: www.gardenofunearthlydelights.com.au for details.
Image: Reuben Kaye at the 2022 Opening of The Garden of Unearthly Delights – photo by Jacinta Oaten