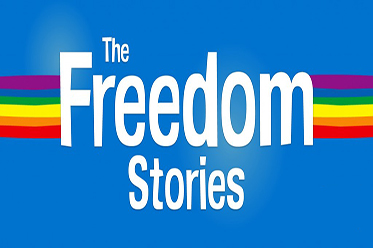 A powerful new series of short films called The Freedom Stories has been launched today in support of lesbian, gay, bisexual and trans young people.
A collaboration between LGBTI community health leader ACON and ReachOut.com, the release of The Freedom Stories coincides with International Day Against Homophobia and Transphobia (IDAHOT, 17 May), bringing focus to young people's experiences and the importance of reaching out to them in tough times.
"Whilst ReachOut.com is a mainstream service, we know it's very important for us to help generate stories specifically for LGBTI young people given they are at least 4 times as likely to attempt suicide as people outside of these communities" said Jono Nicholas, CEO of ReachOut.com by Inspire Foundation.
"The Freedom Stories are five powerful short films that showcase the strength and confidence of LGBT young people, providing support to other young people struggling with their sexuality or gender diversity" added Jono.
The project saw 5 talented young filmmakers teamed with an LGBT young person to tell their story.
"By exposing what it's like to grow up and come out as an LGBT person, we can improve knowledge of sexuality and reduce homophobia," said Nicolas Parkhill, CEO of ACON. "We're very proud of the remarkable films created by the young people involved in this project."
Comedian Rhys Nicholson, who appears in one of the films, said "I remember being very disappointed to discover that after coming out, nothing really changed in my life. This thing that I had agonised and stressed over for so long was suddenly just a mundane fact. So this is a video about that… with swearing and innuendo. Everyone likes swearing and innuendo right?"
With the addition of The Freedom Stories, there are now over 120 videos made by young people on ReachOut.com and on the ReachOut.com YouTube Channel, highlighting the commitment of the service to using new technologies to help improve young people's mental health.
"We've built ReachOut.com on the belief that we have to be where young people are. We were the first online mental health service in the world, and since then we've expanded our work promoting youth mental health across YouTube, Google+, Facebook, Instagram and Twitter," said Jono Nicholas.
"The great power of the online space for mental health is in its ability to achieve scale, we're excited that The Freedom Stories have the potential to reach millions of young Australians with their message of support."
ReachOut.com is Australia's leading online youth mental health service. Designed to help young people under 25 tackle everything from finding motivation to getting through really tough times, the service provides practical tools, forums and information in a safe and anonymous online environment. ReachOut.com is the help young people need, where and when they need it.
For more information, visit: www.acon.org.au/freedomstories or www.inspire.org.au/freedom for details.