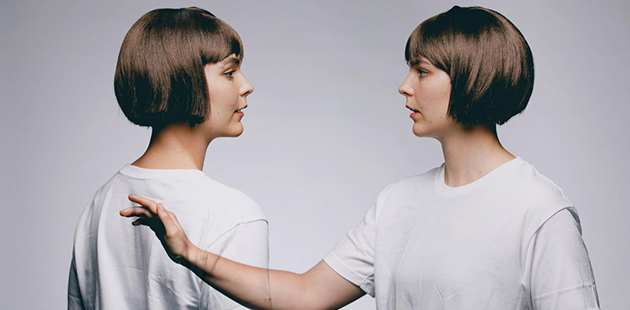 Opening the 2019 Blue Room Theatre Development Season, The Double is the latest play from Bow & Dagger (Tale of Tales, Medusa). Written and directed by Clare Testoni, this new work is a horror story of Faustian proportions that's bound to get you questioning your relationship with technology.
A struggling actress sells her likeness to a tech giant. As her double begins to take shape, she recognises herself less-and-less in it. The deal with the devil is sealed, and soon her double appears on every phone, every computer, every screen, everywhere.
"What I found looking at these old stories of sold souls, shadows, and doppelgangers was the same questions about identity, vanity, and morality that we are asking now," says Testoni. "I wanted to tell a story that reflected this very modern dilemma using the technology and aesthetic of social media. I wanted to put the digital and the human on stage and confront our nightmares and our egos."
Fusing live performance with digital technology – The Double is Black Mirror on stage. A cutting-edge experience that examines our fascination and obsession with digital worlds, presented by an award-winning team.
Clare Testoni is a writer, puppeteer, and actor. Recent works include Tale of Tales (winner of Best Production at The Blue Room Awards), The Beast and the Bride and West of the Moon. Clare has trained as a puppeteer with Spare Part Puppet Theatre, the International Shadow Puppetry Institute in Bamberg, Germany, and in digital puppetry with Studio McGuire (U.K).
As a performer and camera operator, she has recently worked on LÉ NØR and STAY WITH US with The Last Great Hunt, as well as Exclusive and The Second Woman. In 2016 she was a member of the Black Swan Emerging Writers group and the First Hand Emerging Puppetry initiative (Spare Parts Puppet Theatre).
Clare founded the company Bow & Dagger in 2017 with Finn O'Branagáin – a company dedicated to telling traditional stories for contemporary audiences.
Writer / Director: Clare Testoni Featuring: Michelle Aitken, Phoebe Sullivan, Amanda Watson Sound Designer: Joe Lui Lighting Designer: Rhiannon Petersen Creative Producer: Natalie Di Risio Publicist: Scott McArdle
---
The Double
The Blue Room Theatre, 53 James Street, Northbridge
Season: 23 April – 11 May 2019
Information and Bookings: www.blueroom.org.au
Image: The Double – photo by Daniel James Grant