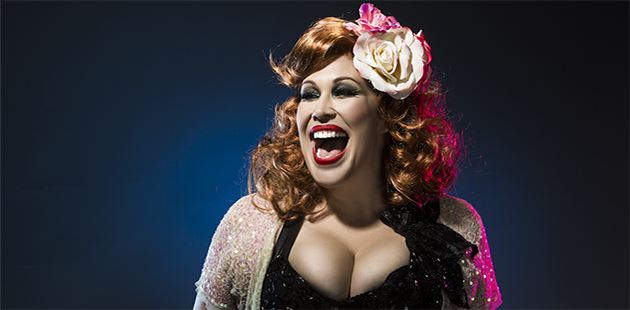 After a triumphant USA debut earlier this year, selling out five cities across the States, award-winning artist and Aussie cabaret darling Catherine Alcorn has made her Sydney Opera House debut in her critically acclaimed show, The Divine Miss Bette, currently playing until Sunday 26 August 2018.
Alcorn thrills audiences with her magnificent voice and razor-sharp wit when she channels the people's diva. "It's my bent on Bette. A channelling if you will. It's a riot! Playing the Sydney Opera House is a dream come true. Treading those iconic boards is the pinnacle for any artist. The life our show has enjoyed is remarkable," said Alcorn.
"From its earliest days at the Wagga Wagga Country Club to New York City, and now the Sydney Opera House. I originally put this show together as a showcase. I invited a bunch of agents who never came. But the general public did, and they kept on coming. We haven't looked back since."
Alcorn's vocal coach is Steve Ostrow – the man who discovered Bette Midler and was the owner of New York's Continental Baths where Midler first played. In a spasm of serendipity, it turns out he lives right around the corner from Catherine in Sydney's Elizabeth Bay.
"I began working with Catherine in 2009 and instantly recognised the same fire, passion and star quality in her that I saw in a young Bette all those years ago," said Ostrow. "Vocally, Catherine is masterful. Her performances and approach to the material are a masterclass in song interpretation. Seeing her perform brings me great joy. Catherine's energy on stage and her authentic connection to her audiences can't be taught. She's the real deal. She's a star."
The Divine Miss Bette takes audiences on a thrilling roller coaster ride back to the Palace Theatre, New York 1973, as Alcorn belts out the diva's early classics including Stay With Me Baby, You're Moving Out Today, The Rose, Wind Beneath My Wings, Boogie Woogie Bugle Boy, and In The Mood.
Backed by a star-studded 7 piece band led by David J Andrew (Gang of Youths) and featuring Glenn Moorhouse (American Idiot), Kirby Burgess (Dirty Dancing), Geoff Green (george), Phoebe Panaretos (Strictly Ballroom), and Crick Boue (Taylor), this spectacular event is not to be missed!
Catherine Alcorn is a Sydney Theatre Award and Broadway World Awards nominee for her new show CATHARTIC and starred in the Australian premiere of the off-broadway cult hit 5 Lesbians Eating A Quiche. She has headlined some of Australia's most celebrated festivals including Adelaide Cabaret Festival, Sydney Festival, Tasmania's Festival of Voices and Perth Fringe Festival. Internationally, Catherine has performed in New York, Los Angeles and Hong Kong.
The Divine Miss Bette
The Studio – Sydney Opera House, Bennelong Point
Season continues to 26 August 2018
Information and Bookings: www.sydneyoperahouse.com
Image: Catherine Alcorn stars in The Divine Miss Bette (supplied)