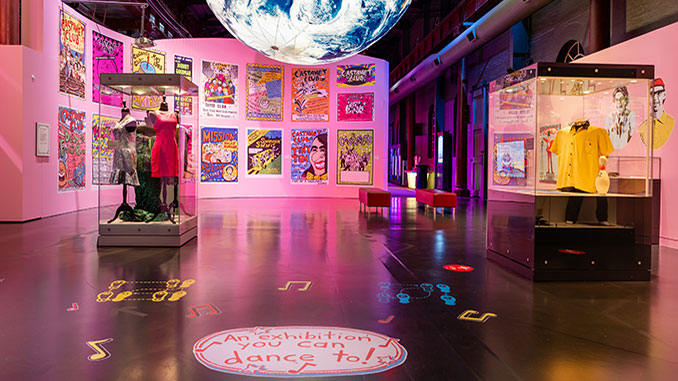 It's been almost four decades since members The Castanet Club first graced the stage at the back of the Clarendon Hotel with their irreverent mix of comedy, theatre, music and dance.
Now, for the first time since 1991, the iconic Newcastle ensemble are getting the band back together for a very different gig – as the stars of a new exhibition at Newcastle Museum.
Back in the early 1980s, there was a magic corner of grimy industrial Newcastle where you could escape from reality into a kaleidoscope of music, comedy, lamingtons, and fun, The Castanet Club.
The Castanets, a group of young friends living, studying, and working in Newcastle, formed a cabaret act that went on to national and international acclaim.
From Hunter Street to the Edinburgh Fringe Festival, they charmed audiences with their off-beat blend of music, dance and comedy. This creative group had a massive impact on Australian entertainment that is felt to this day.
The Castanet Club: an exhibition you can dance to (if you were allowed) will transport audiences back to the 1980s through a kaleidoscope of band posters, photographs, scripts, records, VHS and cassette tapes.
Newcastle Museum Director Julie Baird said Newcastle is known as an incubator for the arts, theatre, music and comedy. "Newcastle is a creative and innovative community with a vibrant cultural history and an amazing depth of talent within its performing and visual arts sector," said Ms Baird.
"Exhibitions such as this provide a vehicle through which we can share our stories, explore our identity and celebrate the collaborative nature of the city's creative and performing artists."
"The Castanet Club began as a group of friends living, studying and working in Newcastle in the early 1980s and went on to become a legend of the Australian cabaret circuit, gaining national and international acclaim."
"This exhibition uses items from the Museum's own collection, which were donated by former Castanet manager Jodi Shields, and includes additional memorabilia borrowed from members of the band, as well as a new artwork by acclaimed local artist Michael Bell, who created the original pop-art aesthetic of the Castanets.
"The story of the Castanet Club will also be brought to life through a newly commissioned film by Stories of Our Town filmmakers Glenn Dormand (Chit Chat von Loopin Stab) and Tony Whittaker, while art curator Therese Kenyon and artist Stephen Clarke will use the exhibition to launch their new book celebrating the remarkable history of the group," said Ms Baird.
---
The Castanet Club: an exhibition you can dance to!
Newcastle Museum, 6 Workshop Way, Newcastle
Exhibition continues to 14 November 2021
Free entry
For more information, visit: www.newcastlemuseum.com.au for details. Take a sneak peak at The Castanet Club.
Image: The Castanet Club: an exhibition you can dance to! (Installation View) – courtesy of Newcastle Museum