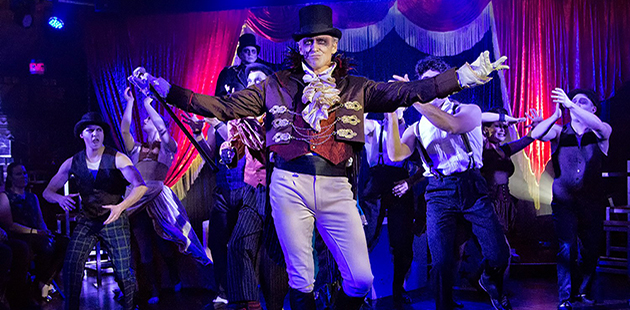 Dare to enter the dark and magical world of a 19th century circus as The Carnival of Lost Souls tours through Melbourne, Adelaide, Sydney and Brisbane this October & November – leaving a dizzying path of mystery and mayhem for audiences along the way.
Nestled somewhere between the madness of a Tim Burton psychosis and the darkness of a David Lynch nightmare, The Carnival of Lost Souls tells the tragic tale of unrequited love & loss set amongst the splendour of a Victorian-era circus.
Written and produced by Graham Coupland, founder of Australia's popular Gangster's Ball, The Carnival of Lost Souls is a lavish production that showcases a breathtaking mix of performances from world-class acrobats, aerial artists, illusionists and carnival characters, all whilst telling a tale of desire and betrayal under the classic Big Top.
With artistic direction by Terence O'Connell (Empire, Spiegelworld) and featuring some of Australia's best physical entertainers, musicians & singers, this uniquely original 'circus noir' spectacle delivers a twisted bent on the familiar circus, musical theatre and cabaret stage genres.
Backed by a highly emotive and original live music score by Platonic, audiences are taken on a brooding and mystical journey into the dark heart of a vintage circus fraternity where nothing is as it seems. Combined with Victorian Gothic and Steampunk-inspired costuming and stage design, a magical world comes alive where the line between life and death, real and unreal, is truly blurred.
"This is one of the best shows I've seen in awhile. A feast of cabaret, circus performance, magic and haunting songs." – Melbourne Observer
Artistic Director: Terence O'Connell Featuring: Anthony Craig, Simon P Storey, Mimi Le Noire, Richard Vegas, Circus Trick Tease, This Side Up, Hannah Trott Choreographer: Yvette Lee Lighting Design: Jason Bovaird Costume Design: Clockwork Butterfly Original Songs and Live Music: Platonic Writer and Producer: Graham Coupland
The Carnival of Lost Souls
The Melba Spiegeltent, 35 Johnston Street, Collingwood
Season: 19 – 28 October 2017
Bookings: www.carnivaloflostsouls.com
Space Theatre – Adelaide Festival Centre, King William Road, Adelaide
Season: 10 – 11 November 2017
Bookings: www.adelaidefestivalcentre.com.au
Reginald Theatre – Seymour Centre, Corner City Road & Cleveland Street, Chippendale
Season: 16 – 18 November 2017
Bookings: www.seymourcentre.com
Roundhouse Theatre, 6 – 8 Musk Avenue, Kelvin Grove
Season: 23 – 25 November 2017
Bookings: www.qtix.com.au
For more information, visit: www.carnivaloflostsouls.com for details.
Image: The Carnival of Lost Souls (supplied)