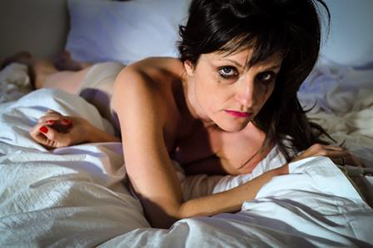 The Bitter Tears of Petra von Kant is a frighteningly evocative theatrical work which tells the intoxicating story of a damaging and emotionally brutal love affair between a fashion designer and her female muse and model.
Directed by Gary Abrahams, he has brought together some of Melbourne's most exciting actors in this all female cast to perform this rarely staged play including Louisa Hastings Edge, Nikki Shiels and Anna May Samson.
Petra Von Kant lives with her personal assistant, Marlene, in a sadistically co-dependent relationship in which she exerts a casual power. Recently divorced, Petra displays a growing hardness towards love and repulsion towards men and the domestic aspects of relationships.
When Petra is introduced to a much younger woman, Karin, she is taken by surprise at the immediacy of her attraction to her. She quickly takes Karin under her wing and offers to help her build a career as a fashion model.
Fassbinder's preoccupations with the themes of love, mortality, sexuality, power and vanity are all on display in this seminal work from the renowned German film maker and playwright. We are forced to intimately watch as Petra is destroyed by the affair, and like her assistant Marlene, we are powerless help.
Dirty Pretty Theatre was formed in 2010 by director Gary Abrahams for the premiere production of Acts of Deceit (Between Strangers in a Room) which was presented as part of the 2010 Midsumma Festival. The company went on to premiere their second work, Something Natural but Very Childish, later the same year. Both works were nominated for several Greenroom Awards for the year, winning Abrahams the award for Best Director in the Independent Category.
Since then Gary has worked extensively as a freelance director, writer, dramaturge and actor. He is currently the resident dramaturge at Red Stitch Actors Theatre, developing new work for the ensemble through their playwriting program. He is a recipient of The Grace Wilson Trust Award for writing, The Jim Marks Scholarship for Artistic Practice and in 2012 was awarded a Mike Walsh Fellowship for his theatre work.
His directing credits also include Jerker (Midsumma Festival 2009) and for Red Stitch he has directed The PRIDE (2012), the world premiere of Joanna Murray Smith's Day One. A Hotel. Evening (2011), The Laramie Project: 10 Years On (Red Stitch, 2011 & Melbourne Arts Centre, 2012), and Oh Well Never Mind Bye (2010).
He has worked as an assistant director and touring director at the Melbourne Theatre Company on the plays Australia Day, All About My Mother, Songs for Nobodies and The Gift.
Director: Gary Abrahams  Starring: Fantine Banulski, Luisa Hastings Edge, Uschi Felix, Anna May Samson, Nikki Shiels, Joanne Trentini  Set Designer: Romanie Harper  Costume Designer: Chloe Greaves  Lighting Designer: Katie Sftetkidis  Sound Designer: Chris Wenn
The Bitter Tears of Petra von Kant
Theatre Works, 14 Acland Street, St Kilda
Season: 29 January – 8 February 2014
Bookings: (03) 9534 4879 or online at: www.theatreworks.org.au
For more information, visit: www.theatreworks.org.au for details.