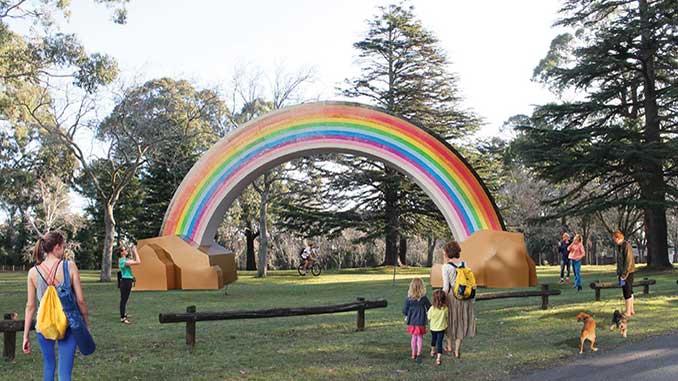 Hepburn Shire Council has announced that the Big Rainbow will be located at Victoria Park in Daylesford, with installation starting shortly.
Victoria Park was selected as the preferred location based on the current use of the site, community and advisory committee feedback, its long connection with ChillOut Festival – Australia's largest and most popular regional LGBTIQA+ event – and the large scale of the installation.
Mayor Cr Brian Hood said the Big Rainbow will be a colourful addition to the Shire. "We have a supportive and diverse community and we're pleased to welcome the Big Rainbow to our Shire," said Cr Hood.
"It symbolises our inclusiveness, diversity, respect and pride for our LGBTIQA+ community and allies. We can see the Big Rainbow being a major attraction for visitors and a destination for community gatherings of celebration and commemoration."
"It will bring opportunities for the local visitor economy, enhance our community's reputation for championing diversity, and for building community partnerships," added Cr Hood.
The Big Rainbow will be installed for a period of three years, with the aim to have it installed in time for the ChillOut Festival on the Labour Day long weekend in March 2023.
Daylesford was selected from a shortlist of four locations around Australia and was announced as winner of the Big Rainbow in October 2022. Council invited feedback from the community on where the Big Rainbow should be located from four potential options in Daylesford.
"We had close to 400 submissions via our survey, with Victoria Park emerging as the most supported site. We also spoke with many community members, advisory committees and sporting groups," said Cr Hood.
"While this was a complex matter, on balance Council decided to accept the donation because of the many benefits for the Shire. Thank you to everyone who shared their views and provided feedback," he said.
The Big Rainbow was designed in collaboration with members of the LGBTIQA+ community and the First Nations Australian community.
The arched landmark is six metres high by twelve metres wide and painted in the colours of the 2018 Progress Pride Flag. It was originally unveiled in Circular Quay in Sydney in early 2022 as a temporary installation.
The Big Rainbow will be donated and installed by Match Group (Tinder). They will also provide $100,000 in grants to a number of community groups, including groups in Hepburn Shire and adjacent local government areas.
---
The 2023 Chillout Festival runs 9 – 13 March. For more information and full program, visit: www.chilloutfestival.com.au for details.
Image: A render of the Big Rainbow in Victoria Park – courtesy of Hepburn Shire Council