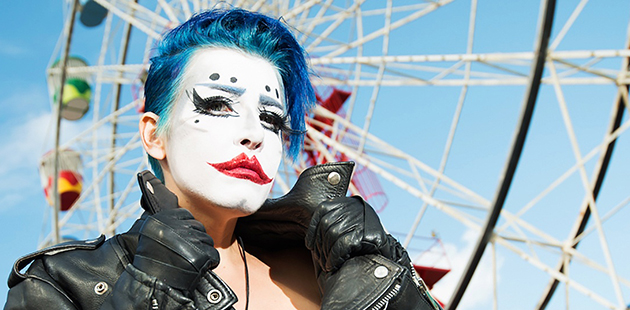 The Company of Rogues return to Marrickville's Red Rattler Theatre for a fearlessly rainbow-flavoured edition of The Bedlam Cabaret on Wednesday 28 February as part of the 2018 Sydney Gay Lesbian Mardi Gras Festival.
Hosted by the one-and-only James 'Breko' Brechney – just days before he weds his partner on a float in the Mardi Gras Parade – The Bedlam Cabaret Mardi Gras Edition will be a madcap multi-genre, queer-themed cabaret blending burlesque, drag and song with circus, comedy and seriously sizzling performance art.
Nine performers will take to the Rattler's stage for an almost-anything goes show. Highlights include the incomparable performance artist Marlena Dali; dazzling burlesque wonder Kael Murray (Star Wars Strips Back); Ben Noir, star of the Paris Burlesque Festival; Nerdy Comedian Debbie Zuckerman; performance artist Poppy Cox – direct from Berlin; and Green Room Award-nominated entertainer Andy Dexterity.
Curated by Creative Producer Robbi James and Artistic Director Goldele Rayment, each Bedlam Cabaret showcases exciting new Sydney artists alongside the city's coolest and most daring established performers. The Mardi Gras Edition will be the third Bedlam Cabaret and the first in a series of themed one-night-only shows planned for 2018.
"The Sydney cabaret scene is very genre specific – all burlesque nights, comedy rooms or drag shows, but few old school variety shows currently exist," said Rayment. "I'm excited to be bringing back the vaudeville style of cabaret show to Sydney audiences."
The Bedlam Cabaret – Mardi Gras Edition
Red Rattler Theatre, 6 Faversham Street, Marrickville
Performance: Wednesday 28 February 2018 – 7.30pm
Information and Bookings: www.companyrogues.com
Image: Marlena Dali – courtesy of The Bedlam Cabaret