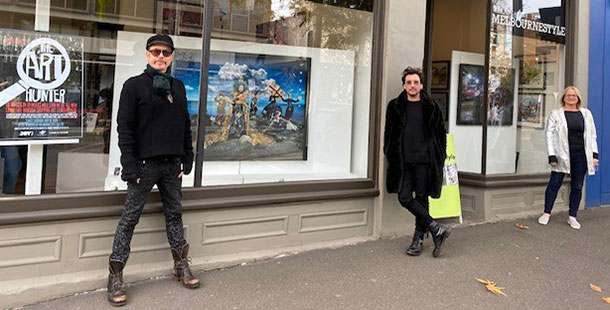 An all-new Covid-safe window shopping extravaganza, The Art Hunter, has taken over the front window of Melbourne Style in South Melbourne in an exhibition that features ten artists over ten weeks.
Curated by David Hunt, well-known Sunday Arts Magazine producer & presenter on JOY 94.9 – Australia's only full time LGBTIQ radio station, the exhibition was to be originally presented in the galleries of Melbourne Style in South Melbourne. However, with parts of Melbourne returning to Stage 3 lockdown, the exhibition shifted focus, with Melbourne Style's Maree Coote agreeing to having the works displayed in their shop front windows.
"Over the years, the show has interviewed many visual artist's who might be independent or through galleries – we have a great relationship with these artists because that's what the programme is about, supporting all aspects of the arts," says David Hunt.
"In these tough times, I have been supporting them as much as I can by featuring a group of artists on my personal social media platforms and of course following them up with on air interviews. Quite a few of the artists have sold their art through this exposure or have just had people talk to them about their art."
The first artists to have their work displayed was Gerard O'Connor & Marc Wasiak, featuring the highly detailed photographic tableaux, Beached Queen, from the series, Queens of the Pub – an explosive new exhibition of photographic images, films and costumes – which, coincidently opened at Galerie Pompom last week.
Artists to be featured over the coming weeks include Enza Benincasa, Marco Luccio, Richard Morrison, Colin Sheppard, Pamela Reid, John Pastoriza-Pinol, Ande Kempnich and Chris Orr. All artworks are for sale with a percentage of each sale going to JOY 94.9. Support local visual artists and support JOY – while picking up some amazing art!
---
With a new artist featured each week, The Art Hunter exhibition takes place in the front windows of Melbourne Style, 155 Clarendon Street, South Melbourne until late September. For more information, visit: www.joy.org.au or www.melbournestyle.com.au for details.
Image: Gerard O'Connor, Marc Wasiak and Maree Coote outside Melbourne Style in South Melbourne – courtesy of David Hunt