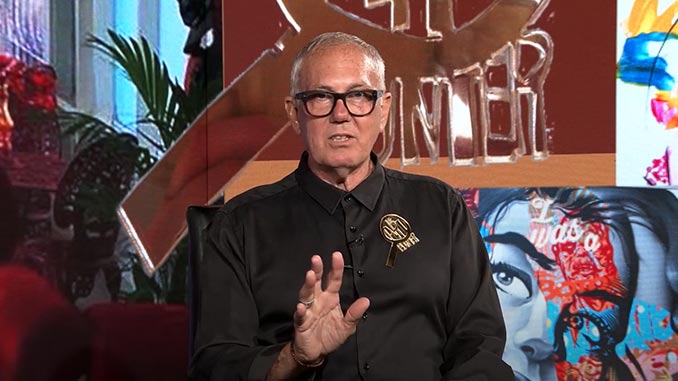 The Art Hunter is a new weekly TV show, where a different artist is interviewed via the YouTube platform, making it accessible to a worldwide audience.
The Art Hunter is dedicated to interviews with artists of various disciplines – from visual arts to theatre; from writers to actors; from gallery curators to dancers. The show's aim is to showcase all aspects of the arts, with up close and personal, in-depth conversations.
Presenter David Hunt has pre-recorded over a dozen episodes to date – with the first episode featuring Maree Coote now available to view. Artists interviewed so far include Joanna Murray-Smith, John Pastoriza-Pinol, Julietta Jameson, Patricia Piccinini, Marco Luccio and more – with pre-records ongoing at St Kilda's Alex Theatre.
With limited opportunities for exposure, The Art Hunter is a rare outlet, offering longform interviews, allowing the audience an intimate insight into the artist's world. The Art Hunter team are dedicated volunteers with professional backgrounds in film, television and radio, ensuring a high-quality production.
The camera crew, the producers, editors, presenter (David Hunt), the logo designer, the intro music and web designers are all volunteers, with a crowd funding platform to market the program… giving valuable exposure to the artists.
David Hunt's love for the arts and his friendship with so many artists as a presenter/producer of a weekly arts program on JOY949: Sunday Arts Magazine, which has been running for over six years. David is always on the "Hunt" for new & emerging artists. And he is very grateful that he has been given this opportunity to support the arts.
David's background over the past 30 years, was with international & local record companies, in senior management roles – publicity, promotions, marketing. With EMI, Virgin, BMG & MDS (an offshoot of Mushroom), plus his own PR/Marketing company, looking after some of the biggest international & local names in the industry.
This is a unique opportunity to support the arts community and ensure ongoing exposure for individuals in a shrinking media landscape. The Art Hunter screens weekly via YouTube.
Image: David Hunt on The Art Hunter Set (film still)