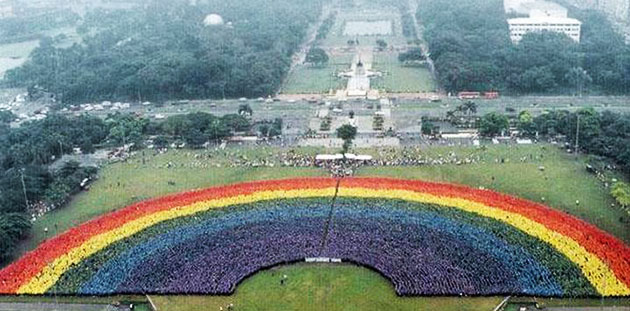 The ChillOut Festival in Daylesford has grown to be one of Australia's largest and most beloved LGBTIQ festivals. A key event in the 2020 festival program is an attempt to break the current world record for the most people gathered to form a human rainbow.
"The record attempt in Daylesford will be a collective symbol of solidarity and acceptance for the LGBTIQ community," said Michele Bauer, ChillOut Festival Director. "Two years after marriage equality has show that we have a long way to go and that we cannot be complacent on LGBTIQ rights."
"The world's largest human rainbow will be a grand display to the world that Australians believe in diversity and continue to stand for equality."
On Saturday 7 March 2020 at 2.00pm – participants are to gather at Victoria Park, Daylesford to celebrate and show support for Queer Country Pride.
The record attempt will be officiated by Guinness Book of Records with drone photography, singing and family-friendly fun. The current world record is held by Polytechnic University of the Philippines ⁠where over 30,000 gathered on 18 September 2004 to form a human rainbow.
This is an inclusive, family-friendly event and event organisers encourage everyone to be part of a positive display of unity as Australia attempts to break the current world record. Participants will be supplied their own T-shirt to keep with one of the colours of the rainbow. Registrations to participate in the event are now open.
The 2020 ChillOut Festival runs 5 – 9 March. For more information, visit: www.chilloutfestival.com.au for details.
Image: Human Rainbow – photo courtesy of Polytechnic University of the Philippines