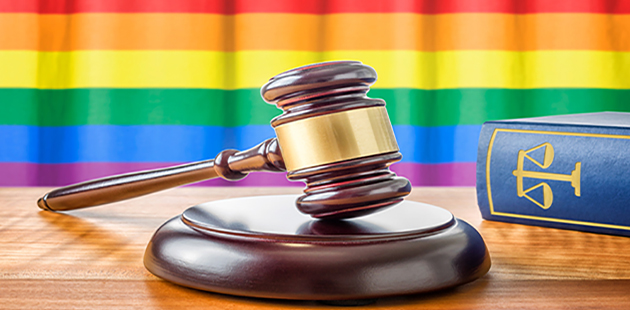 Equality advocates have urged those people convicted under Tasmania's former laws against homosexuality and cross-dressing to apply to have their records expunged. Tasmanian legislation enabling expungement, which has been hailed as the best in Australia, was passed last year and comes into effect this week.
"Tasmania is one step closer to erasing the stigma that still persists from a time when gay and transgender people were effectively criminals," said Tasmanian Gay and Lesbian Rights Group spokesperson, Rodney Croome. "I urge those LGBTI people convicted under Tasmania's former laws to apply to have their criminal records expunged so the stigma and burden associated with these records can finally be lifted."
"Homosexuality and cross-dressing should never have been crimes and from today there is finally a remedy for the pain and trauma caused by their criminalisation. The priority now is to ensure everyone with a criminal record, and families where a deceased member had a record, are aware of the expungement process."
"I commend the State Government for promoting the scheme with advertisements across the nation, but more will need to be done to ensure everyone who will benefit from the new legislation knows about it," added Croome.
Tasmania was the last state to criminalise homosexuality (until 1997) and the only state to criminalise cross-dressing (until 2000). Tasmanian Premier, Will Hodgman, was the first premier to commit to an apology to those convicted under anti-LGBTI laws and the first Liberal Premier to offer an apology.
The expungement legislation was one of the final achievements of the late Dr Vanessa Goodwin before ill-health saw her retire from her role as Attorney-General.
Robin Banks, who helped draft the legislation in her former role as Anti-Discrimination Commissioner said "This law is the product of a collaborative and effective legislative process. There was community consultation with those affected by the stigma of these former laws as well as those responsible for policing and administering the law."
"The Bill presented to Parliament was carefully reviewed by our Legislative Council. That review resulted in significant improvements that were negotiated with the Government to ensure its support. The expungement legislation shows how well our law-making process can work when the Government, the community and both houses of Parliament work together to ensure the best possible outcome."
"Tasmania's expungement legislation also builds on the lessons learnt from legislation in other states, making it the best of its kind in Australia. This Act reflects the commitment shown by the late Dr Vanessa Goodwin to righting this historic wrong."
"The Act and the scheme it introduces reflects Dr Goodwin's concern to improve the situation of those in our community who face prejudice, stigma and discrimination. It is yet another fitting memorial to Dr Goodwin's compassionate leadership," said Banks.
For more information about the application process or to apply, visit: www.ehos.tas.gov.au for details.