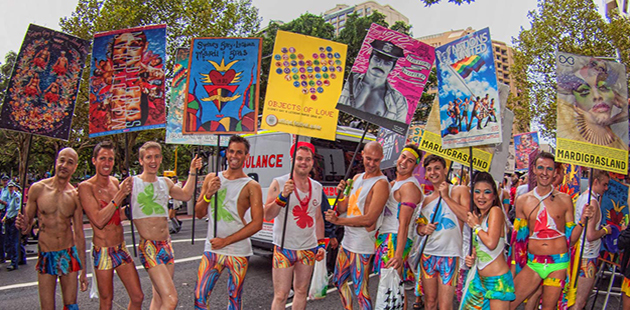 Follow in the footsteps of Sydney's world renowned Mardi Gras parade and learn about Oxford Street's tantalising secrets. A new self-guided walking tour from the City of Sydney highlights an array of tales from LGBTIQ history, from drag queen dens to the story of a notorious homosexual bush ranger.
The free "Parade" walking tour was jointly developed with community organisation the Pride History Group and features on the City of Sydney's award-winning Culture Walks app. The free app for Android and iPhone includes 12 culture and history walks exploring more than 400 points of interest across Sydney.
Lord Mayor Clover Moore said the free walking tour coincides with the 40th anniversary of Sydney's first Mardi Gras. "This walk encourages both Sydneysiders and visitors to explore our city and discover just some of its diverse lesbian, gay, bisexual, transgender, intersex and queer history," said the Lord Mayor.
"From parties in the gay pubs of yesteryear to the bloody origins of Mardi Gras in 1978, this free walking tour is a fascinating journey through our past."
Pioneering LGBTIQ venues like Patchs and Ruby Reds are resurrected with archive photos in the app, while drag bar owner Ivy Richter shares personal tales about her iconic Taylor Square venue Ivy's Birdcage – which burnt down in the late 1960's.
The walk explores early gay history as far back as the 19th century with the story of notorious bushranger Andrew George Scott, also known as Captain Moonlite. Scott went to the gallows at Darlinghurst Gaol in 1880 wearing a ring woven from a lock of hair from his constant companion, James Nesbitt.
He wrote in his last wishes: "James Nesbitt [is] the man with whom I was united by every tie which could bind human friendship, we were one in hopes, in heart and soul and this unity lasted until he died in my arms."
Scott McKinnon, Vice President of the Pride History Group said the walk brings the history of Sydney's LGBTIQ community to life. "We've collected more than tales and testimonies from activists, bar owners, drag queens and DJs – people who have played a big part in our story," said McKinnon.
"It's easy to walk along a Sydney street and not even know what went on there. This tour brings those stories and places to life. Oxford Street is always interesting – the parties, the parades – but there's social history there too, with activism and the fight for equality."
"Our history isn't taught in schools, so this walk is a great way to explore and discover some of the surprising stories which have made our community what it is today."
For more information, and to download the Parade Walking Tour, visit: www.sydneyculturewalksapp.com for details.