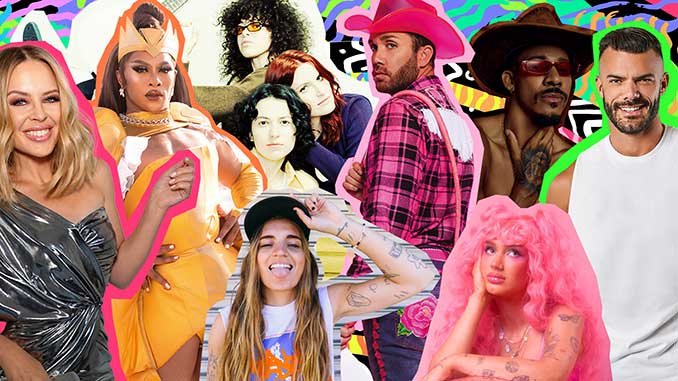 Sydney WorldPride has unveiled its full Festival Guide of more than 300 events, with international pop superstar Charli XCX joining the line-up of stars performing at Live and Proud: Sydney WorldPride Opening Concert presented by American Express at The Domain on Friday 24 February 2023.
With 100 days to go until the first WorldPride in the Southern Hemisphere, Charli XCX will be performing alongside local star Jessica Mauboy and pop royalty Kylie Minogue at the official Opening Concert, hosted by Courtney Act and Casey Donovan. The concert will be broadcast live on the ABC.
Kelly Rowland has also been confirmed to headline Domain Dance Party, an open-air dance event curated by DJ Dan Slater. An incredible line-up of local and international DJs has also been confirmed, including DJ Suri and Isis Muretech
The Sydney WorldPride festival is the largest LGBQTIA+ event ever held in the region, with 17 days of activities spanning 30 Official major events, 68 curated WorldPride Arts experiences, 17 WorldPride Sports events and 192 Pride Amplified community events.
"The Sydney WorldPride Festival Guide represents 144 pages of fabulous LGBQTIA+ creativity. The festival includes an extraordinary array of free and ticketed experiences, from concerts to parties, theatre, sports and family events, so no matter your interests or budget, you are invited to Sydney WorldPride," said Sydney WorldPride's Chief Executive, Kate Wickett.
"The first WorldPride in the Southern Hemisphere is a significant moment for both for the LGBTQIA+ community in Australia and Sydney. Now is the time to get ready for the global LGBTQIA+ reunion we've all been waiting for!"
New Sydney WorldPride tickets:
New tickets are now on sale for both Live and Proud: Sydney WorldPride Opening Concert presented by American Express and the hotly-anticipated Bondi Beach Party presented by Optus. Tickets are also available for Domain Dance Party and the closing concert Rainbow Republic featuring MUNA.
Visitors to Sydney are also able to bundle major event tickets with their flights and accommodation for bookings completed by 30 November through an Approved Travel Provider.
New Sydney WorldPride events:
Four new shows at Marri Madung Butbut (Many Brave Hearts): First Nations Gathering Space (23-28 Feb), hosted at Carriageworks, have been added to the Official event line up:
These new events join Miss First Nations: Supreme Queen, Klub Village starring Kween Kong, Daddy and Chase, making Carriage works a must-visit part of WorldPride.
"Marri Madung Butbut is a six-day celebration of global First Nations creativity, talent and brilliance," said Ben Graetz, Sydney WorldPride Festival Creative Director. "It is a showcase of First Nations fabulousness on an international stage where everyone is welcome and is a safe space for our LGBTQIA+SB community to come together to celebrate as one."
Alongside the huge array of exciting events in Sydney, Newcastle is also getting in on the action, with tickets to Sydney WorldPride's one-off exclusive long table dining event Pink Salt also going on sale today.
Held at The Station in Newcastle on 18 February 2023 and hosted by Timberlina, the culinary extravaganza will be a dining experience like no other. A fabulous three-course feast will be prepared by some of Australia's most-celebrated chefs, Christine Manfield, Newcastle-based Reece Hignell and Australia's pre-eminent Torres Strait Islander chef, Nornie Bero.
New Sydney Gay and Lesbian Mardi Gras tickets:
The much-loved Sydney Gay and Lesbian Mardi Gras' Laugh Out Proud, Sissy Ball and Paradiso Pool Party have also gone on sale today.
To celebrate the return of the Mardi Gras Parade to its spiritual home on Oxford Street, two brand new viewing areas – Club Cindy presented by American Express and Ruby Road are also available.
For those unable to attend in person, the Parade will once again be broadcast live on the ABC.
"Sydney WorldPride will be the biggest pride celebration Australia has ever seen," said Sydney Gay and Lesbian Mardi Gras CEO Albert Kruger.
"The 17 days of jam-packed programming will spotlight our LGBTQIA+ communities and put Mardi Gras on the map globally, something that will create a lasting impact for the festival for years to come."
"We're delighted to be delivering a host of beloved Mardi Gras events for WorldPride, including Sissy Ball, Laugh Out Proud, Fair Day and Party. Most exciting of all is the return to Oxford Street for our 45th Anniversary Parade. It's a special milestone year for us."
"We're celebrating this milestone by introducing two new parade viewing areas so that spectators can enjoy extra comforts while cheering on as the world's most spectacular night-time parade passes by," said Kruger.
Full WorldPride Arts program revealed:
The full WorldPride Arts program – Sydney WorldPride's curated program of arts events – has been launched today, featuring 68 culture events of which 50 are world premieres.
Events will be held at more than 40 venues across Sydney and will feature more than 2,000 performers, artists and arts workers. The festival includes:
"It is a huge privilege to be showcasing such diversity, creativity and artistic talent as part of Sydney WorldPride, with performers and artists hailing from across Australia and around the world," said Dan Clarke, Sydney WorldPride's Festival Creative Director – WorldPride Arts.
"From the beginning, it was important for us to represent a multiplicity of voices, experiences, cultural backgrounds and ages. We have been overwhelmed by the interest and support we have received from Sydney's arts and cultural institutions.
"From powerful theatre and rousing music to playful exhibitions and fabulous drag, the WorldPride Arts program gives locals and visitors alike the opportunity the experience the wonderful creativity of the LGBTQIA+ community," said Clarke.
A full list of all WorldPride Arts events is available here!
Full WorldPride Sports schedule revealed:
For sports lovers, Sydney WorldPride has created WorldPride Sports, a community program of over 17 different sports including football, hockey, basketball, wrestling swimming, ten-pin bowling at more.
Featuring beloved organisations including Sydney Stingers and the Sydney Rams, among others, the program will include free events for people to participate in and watch. For the full program of events, click here!
Human Rights Conference schedule revealed, plus new presenters:
Taking place from 1 to 3 March 2023, the Human Rights Conference will bring together 1,500 community leaders, activists, politicians and human rights experts from across the globe to address the key human rights issues affecting LGBTQIA+ people around the world.
The first conference of its kind in the Asia Pacific region, with a further 18 presenters announced today to be appearing at the event. For the full list of presenters click here! For the latest conference agenda click here!
Pride Amplified:
Nearly 200 events are now on sale through Pride Amplified, Sydney WorldPride's open access program for LGBTQIA+ arts, culture, community events and parties.
There are a huge array of events including Pride Climb on Sydney Harbour Bridge, parties at iconic queer venues including the Burdekin and the Stonewall, LGBTQIA+ history walks and a Sapphic Literary Lounge at Watsons Bay Library.
Applications to be part of Pride Amplified program re-open on 11 November and close on 12:00pm AEDT 28 November 2022. Events accepted as part of this round of applications will be included on the Pride Amplified website.
---
The 2023 Sydney WorldPride Festival takes place across Sydney from 17 February to 5 March. For more information and full program, visit: www.sydneyworldpride.com for details.
Image: Sydney WorldPride Headline Artists (supplied)