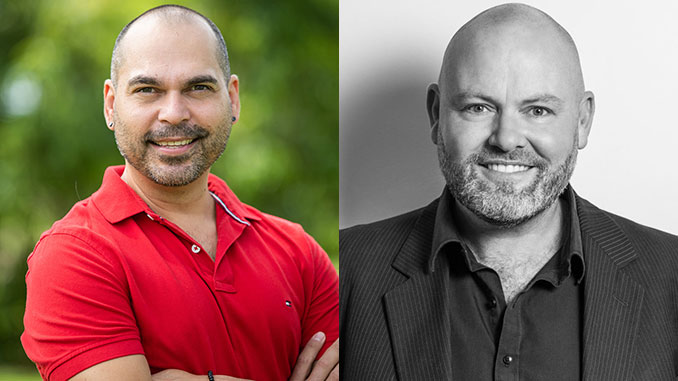 Sydney WorldPride 2023 (SWP2023) has announced the appointment of Festival Creative Director, Daniel Clarke; and Festival Creative Director – First Peoples, Ben Graetz.
"These appointments represent a major step forward in the planning and delivery of this global celebration. Appointing two highly respected creative directors, with global recognition is a privilege, and we know that together they will create a vision that celebrates all parts of our communities," said Kate Wickett Interim CEO Sydney WorldPride 2023.
"Ben and Daniel will be focused on developing the schedule of events and creative vision for this once in a lifetime celebration of LGBTQI culture in 2023. The Festival Creative Directors will work together to shape the SWP 2023 program ensuring the cultures of Australia and Australasia's First Peoples are an integral part of the entire festival."
Daniel Clarke has worked as an Artistic Director, Creative Producer, Executive Producer, Director, Programmer and CEO across Australia and the UK. He is a respected arts leader with a commitment to inclusivity, bold voices, independent artists, new works and artistic development. He has championed the works of many visionary LGBTIQA+ artists throughout his career from independent producing to within large cultural institutions.
"It is an enormous honour to be selected to co-creatively direct this global Festival. I can't wait to work alongside Ben, Kate and the whole WorldPride team to create an unforgettable event in Sydney for guests from all over the world," said Daniel Clarke.
"I come to this role with an open heart and mind, so energised and inspired by the work that has been done to date. I can't wait to hear what people want this Festival to be and excited to listen to and collaborate with the diverse communities that will make up this major cultural event."
"To have First Nations queer arts and culture as a major focus of this festival will ensure that Sydney WorldPride 2023 is relevant, revolutionary and unlike like anything that we have experienced before in a LGBTIQA+ festival."
Ben Graetz is a descendant of the Iwaidja and Malak Malak clans in the Northern Territory and of Badu Island in the Torres Strait, with over 20 years of creative practice spanning both First Nations and LGBTIQA+ identities.
"As a locally born Queer Man from Darwin Northern Territory, I am thrilled to be joining the Sydney WorldPride Team as their Festival Creative Director – First Peoples," said Ben Graetz.
"Sydney WorldPride will be an incredible opportunity to celebrate who we are as a globally diverse community, showcase our extraordinary LGBTIQA+ talents and shine a light on the human rights issues facing not only the First Nations people of this country but also our Brothers & Sisters in the Asia Pacific region as well."
Ben and Daniel's priority will be listening to the input from the LGBTIQA+ community and creating a vision for this once in a generation celebration. We look forward to sharing their vision with you later this year. For more information, visit: www.sydneyworldpride.com for details.
Image: Ben Graetz and Daniel Clarke (supplied)