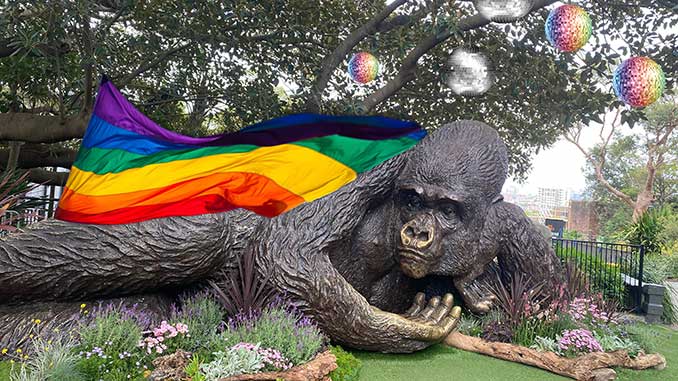 Sydney is being transformed into a Rainbow City to celebrate Sydney WorldPride, with museums, businesses, councils among a number of organisations installing rainbow public artworks across the city.
In all, 45 free public artworks will be unveiled to mark 45 years of Sydney Gay and Lesbian Mardi Gras, with the installations stretching from the Royal Botanic Gardens, to Manly Beach, to Wollongong and all the way to the Scenic Skyway in the Blue Mountains.
For one special night, the Sydney Opera House will be lit up with a Progress Pride Flag on 17 February to mark the start of Sydney WorldPride, in a visible display of welcome to locals and tourists alike.
In the city, the Australian property industry – in collaboration with LGBTQIA+ property and construction industry group Building Pride – will be lighting up six iconic buildings that stretch from Circular Quay to Sydney Tower in the CBD, in the colours of the pride flag. The buildings will be lit up on 24 – 26 Feb and 3 – 5 March to coincide with Sydney WorldPride events in The Domain.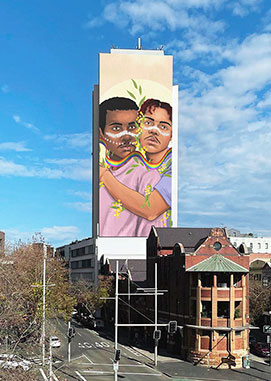 The biggest painted artwork is by First Nations artist Dylan Mooney, who will be working with a team of muralists to paint the northern side of the Top of the Town building in Darlinghurst.
The mural, part of Mooney's Still Thriving series and supported by the City of Sydney's Art and About program, is a powerful representation of queer Indigenous identities on a grand scale.
"I feel honoured to be given the platform to share my work with Sydney WorldPride," said Artist Dylan Mooney. "My work focuses on authentic representations of the queer Indigenous community, representing connection to Country and our love for each other."
"It means a great deal that those often under-represented can stand proudly and defiantly sharing tender moments."
Meanwhile from Friday 17 February, the façade of Sydney's Jewish Museum in Darlinghurst will be covered with rainbow illustrations by local artist Leo Greenfield. Inspired by the traditional art forms of paper cutting and wood printing, the design incorporates distinctively Jewish motifs including the Star of David and the pomegranate, a traditional Jewish symbol of love.
In Northern Sydney, Taronga Zoo Sydney's giant bronze gorilla, Queen Nyani (formerly King Nyani) created by public artists Gillie and Marc, will be decked out with a giant rainbow cape and recline under the lights cast by an array of disco balls hung from the fig tree above him.
"It is a sign of how much things have changed since the first Mardi Gras in 1978, that businesses, organisations and institutions across Sydney are coming together in a visible display of support for the LGBTQIA+ community and turning the city rainbow for WorldPride," said Kate Wickett, Sydney WorldPride's Chief Executive Officer.
"What an incredible welcome to this wonderful and inclusive city. I couldn't be prouder to see these 45 rainbow installations come to life in the coming days."
Ben Franklin, Minister for Tourism and the Arts, said visitors and Sydneysiders will be blown away by the vibrant colour that will enliven Sydney for WorldPride.
"Whether its floral walls, decal on streets, scenic cable cars, murals on buildings, light installations, tunnels, fountains, flags or ferris wheels, the city is about to be reimagined in all the colours of the rainbow for Sydney WorldPride," said Mr Franklin.
"We are ready to welcome 78,000 visitors to Sydney for this explosion of art, culture, sport and to celebrate the biggest Pride event in the world."
"Sydney WorldPride is the rainbow-coloured celebration that Sydney needs to provide local businesses with a huge $112 million economic boost to the visitor economy."
"The festival will also contribute to and promote Sydney's night-time economy, showcasing the city as a destination that is vibrant, diverse and inclusive," said Mr Franklin.
"Sydney WorldPride is the rainbow celebration we all need after a challenging few years," said Lord Mayor of the City of Sydney, Clover Moore.
"Rainbows are used to reflect both the diversity and unity of the LGBTQIA+ community, and I'm proud to welcome everyone to our truly diverse and global city."
Other rainbows include a rainbow Ferris Wheel at Luna Park Sydney, a light installation at PHIVE in Parramatta and an Embrace the Rainbow activation in Pacific Square, Maroubra.
Visitors and locals alike are encouraged to visit all the artworks, sharing their content with #RainbowCity and #SydneyWorldPride.
---
For more information about the Rainbow City installations, visit: www.sydneyworldpride.com for details.
Images: Queen Nyani at Taronga Zoo (supplied) | Dylan Mooney's Still Thriving (supplied) | Ferris Wheel at Luna Park (supplied)