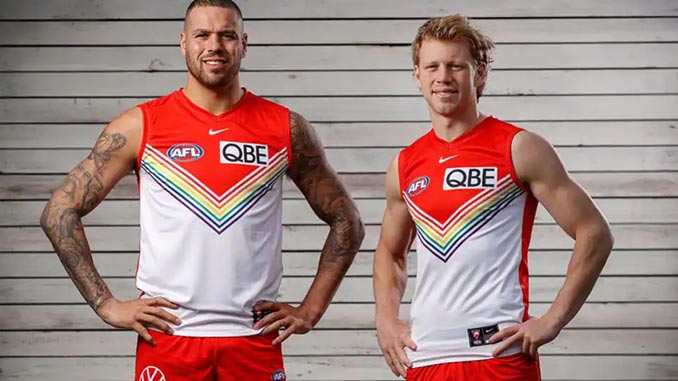 The Sydney Swans have launched their inaugural Pride guernsey which the team will wear for the annual Pride Game against St.Kilda in Round 21.
It is the first time the club will wear a specially designed Pride guernsey for the game, which has been an annual fixture on the AFL calendar between Sydney and St.Kilda since 2016.
Sydney Swans CEO Tom Harley said the team wearing a Pride guernsey for the first time was an important way for the club to continue to be inclusive, to celebrate diversity and ensure everyone feels respected.
"Our Pride guernsey reflects the importance of being an inclusive club and we want everyone to feel welcome at the football," said Harley. "We're thrilled to introduce our new Pride guernsey which reflects on our connection and commitment to the LGBTIQ community."
"Pride Game is always a highlight on the calendar and although we can't be at the SCG with our members and fans this year, we know our supporter base will come together to celebrate, no matter where the game is held."
"It's exciting to be able to launch this guernsey and I look forward to seeing the team run out in it against the Saints in Round 21," said Harley.
The guernsey is designed by Sydney Swans apparel partner Nike, who like the Swans, has a strong values alignment including a passion for sport, diversity and inclusion, and the community.
Showing that visibility is power, the guernsey features a bright and bold rainbow 'V' to celebrate freedom of expression and that everyone should feel free to be exactly who they are. We stand together for the power of sport to bring people together. And when we move together, we can move the world.
The Sydney Swans will also wear rainbow socks with the Pride guernsey. The 2021 Pride guernsey and range is available at the Swanshop. HSBC is the official Pride Game partner of the Sydney Swans.
Due to the ongoing Covid-19 situation, the fixture for Round 21's Pride Game will be released in coming weeks. For more information, visit: www.sydneyswans.com.au for details.
Image: Lance Franklin and Callum Mills wearing the new Pride guernsey – photo by Michael Willson / AFL Photos
Source: www.sydneyswans.com.au