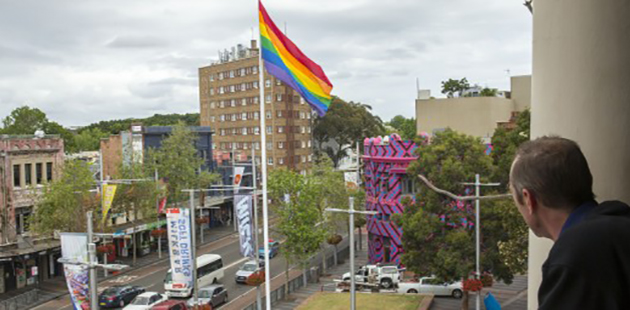 The City of Sydney has raised a giant rainbow flag, which will fly six storeys above Oxford Street to mark the importance of the area's gay, lesbian, bisexual, transgender and intersex community. The 6.4-metre by 3.2-metre flag is located at an area known as 'Gilligan's Island' at Taylor Square.
The Council unanimously endorsed the flag's installation as a precursor to the creation of a permanent artwork in the area in 2018, celebrating the 40th anniversary of Sydney Gay and Lesbian Mardi Gras.
Lord Mayor Clover Moore said the rainbow flag was an international symbol of pride and would help reinforce the area's rich GLBTI culture and history.
"Sydney has the largest GLBTI community in Australia and while we develop a permanent public artwork this flag will say loud and clear that Sydney is a safe, inclusive city for everyone," the Lord Mayor said.
"Since the removal of the much-loved rainbow crossing at Taylor Square, many people have expressed a desire for a significant artwork to celebrate Sydney's GLBTI community. City staff will work on delivering this major public artwork at Taylor Square in Oxford Street – the traditional heart of Sydney's GLBTI community."
"I want the artwork to bring as much colour and joy to Oxford Street as the crossing did. It should serve as a landmark, a destination and a meeting place – something people will want to photograph and share with others. Most importantly, it should celebrate what has been achieved and remind us how much there is still to do."
The City is a proud supporter of our GLBTI community, and the only Council in Australia that employs a dedicated GLBTI Community programs officer, who liaises with the community on programs, activities and issues. For the past five years, a rainbow flag has been raised above Sydney Town Hall to mark the annual Sydney Gay and Lesbian Mardi Gras and Pride Week in June. The City has also installed around 200 rainbow banners along Oxford and Flinders streets.
The City has boosted its annual Mardi Gras sponsorship by almost 20 per cent, to more than $1.5 million over three years, to assist with the festival's increased running costs, and always enters a float in the parade and has a presence at Fair Day. It will continue to work with Sydney Gay and Lesbian Mardi Gras in seeking opportunities for the festival to continue promoting Sydney nationally and internationally, support local Oxford Street businesses and enhance the experience of visitors and tourists.
For more information, visit: www.cityofsydney.nsw.gov.au for details.
Image: The Rainbow Flag at Taylor Square – courtesy of the City of Sydney