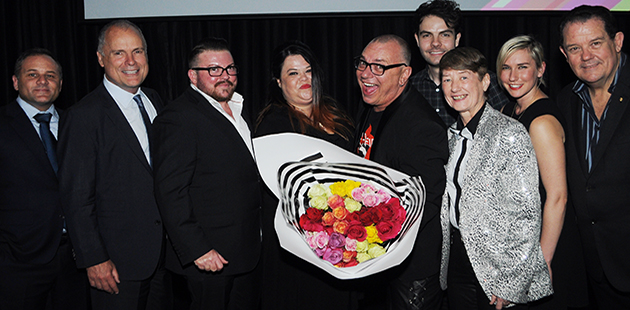 Nine people and organisations from across NSW and Australia were recognised for their service to NSW's lesbian, gay, bisexual, transgender and intersex (LGBTI) community at a gala awards ceremony in Sydney.
Now in their eighth year, the Honour Awards is an annual event which recognises outstanding achievements within or contributions to NSW's LGBTI community. The awards are also a gala fundraising event for LGBTI charity Aurora and ACON.
The winners were selected from a diverse field of 140 nominations and 29 finalists, and were presented with their awards at a ceremony at the Ivy Ballroom in Sydney on Wednesday 17 September. The event was attended by over 350 people and raised over $50,000 for community initiatives supported by ACON and Aurora.
Cheryl 'Webby' Webster received the Community Hero Award for over 20 years of service to the LGBTI community as a member and leader of many key LGBTI community organisations and events.
Former staff and patients of Ward 17 South at St Vincent's Hospital in Sydney were honoured with the ACON President's Award in recognition of their extraordinary contribution to improving the health and wellbeing of people affected by HIV and AIDS.
The other recipients were:
Brendan Maclean (Young Achiever Award) – for his work as a musician, actor, writer and broadcaster, for his advocacy on LGBTI rights and issues, and for many years of donating his time and talent for various LGBTI charity fundraisers
Bingham Cup Sydney 2014 (Community Organisation Award) – for securing and organising the world's premier international gay rugby tournament, launching the first international study into homophobia in sport, and producing an anti-homophobia policy framework for Australian sport which has been adopted by all major sporting codes in the country.
Archer Magazine (Media Award) – for launching a ground breaking publication focussing on sexual diversity and gender identity in Australia
John Frost (Arts & Entertainment Award) – for his outstanding contribution to the performing arts as Australia's most successful producer of plays and musical theatre
Ash Golsby (Cayte Latta Memorial Awards For Visual Arts) – for Transitory, a series of photographs documenting gender transition
Prof. Andrew Grulich (Health & Wellbeing Award) – for his work over 2 decades as one of Australia's leading HIV researchers and public health physicians, and for his significant contribution over many years to HIV and LGBTI community organisations through board and committee memberships
Hellfire Club (Business Award) – for making an outstanding contribution to the LGBTI, queer and fetish communities over 20 years through culture, advocacy, health promotion, and sex positivity
ACON President Mark Orr congratulated the winners and all the finalists on their achievements and community service.
"The event was a truly inspirational and thoroughly entertaining evening and a great celebration of the dynamic spirit of our community,"  said Mr Orr. "I'd like to thank all the people who submitted nominations as well as all our guests for coming along and supporting ACON and Aurora."
For more information, visit: www.honourawards.com.au for details.
Image: The Honour 2014 Award winners celebrate at the event – Prof Anthony Schembri, Duncan McGregor, Ash Golsby, Jackie McMillan, Craig Donarski, Felipe Ubilla, Cheryl 'Webby' Webster, Amy Middleton and John Frost – photo by Robert Knapman