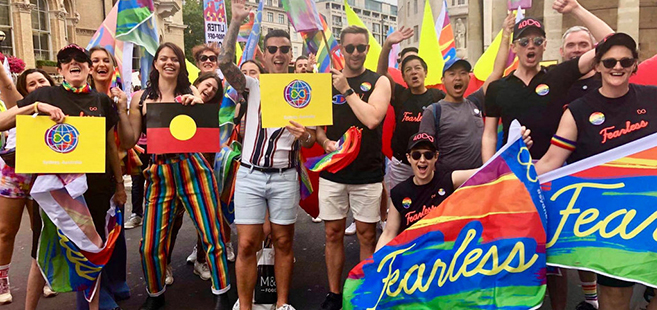 Sydney Gay and Lesbian Mardi Gras has won their bid to host the international marquee Pride event, WorldPride 2023.
Members of the worldwide InterPride network of Pride organisations voted between Sydney, Montreal and Houston as the host city for WorldPride 2023. The final results were Sydney 60%, Montreal 36% and Houston 3%. The win was announced in Athens, Greece overnight at the annual InterPride AGM.
Sydney WorldPride will be held over February and March to coincide with Mardi Gras 2023. This will be the first time ever WorldPride has been to the Southern Hemisphere and Asia-Pacific region. This is important as many LGBTQI communities within the Asia Pacific are still denied fundamental human rights.
WorldPride represents a major tourism initiative for Australia. Deloitte have estimated a 25 – 40% increased growth in visitors, in addition to the 1.094m – 1.225m visitors for Mardi Gras. Sydney will be the first stop, and other regional attractions will see visitation pre and post event.
"This is a major win for Sydney, Australia and the region more broadly," said Sydney Gay and Lesbian Mardi Gras Co-Chair Giovanni Campolo-Arcidiaco. "Bringing WorldPride Down Under means we can celebrate and shine a spotlight on the unique challenges faced by the LGBTQI community in the region."
"We'd like to say a huge thank you to our Federal, State and Local governments, corporate and community partners, the extended team at Sydney Gay and Lesbian Mardi Gras as well as our global community for helping bring WorldPride to Sydney 2023," said Sydney Gay and Lesbian Mardi Gras Co-Chair Kate Wickett. "This has been a truly collaborative pitch."
"Interpride has recognised how far Sydney Gay and Lesbian Mardi Gras has come since 1978, and now the world will march with us down Oxford Street to celebrate our community and support our region," said WorldPride Committee Chair Robyn Kennedy.
"Sydney has long demonstrated its ability to host spectacular world-class events that attract visitors from right across Australia and around the globe," said Federal Minister for Trade, Tourism and Investment Simon Birmingham. "It is absolutely fitting that Australia and particularly Sydney celebrate our diversity through such a symbolic event that will also deliver a huge boost to our tourism industry."
"Congratulations to the Sydney Gay and Lesbian Mardi Gras, the wider LGBTQI community and all other supporters on the work they have done to secure the internationally renowned extravaganza that is World Pride 2023. We are proud to have helped secure this win and look forward to promoting an event not to be missed!"
"I am absolutely delighted that Sydney has been chosen to host this incredible event, which coincides with the 45th anniversary of the first Mardi Gras Parade and the 50th Anniversary of the first Australian Gay Pride Week," said NSW Minister for Arts Don Harwin. "This event will attract thousands of international visitors and put Sydney on the world map as a truly inclusive and united global city."
For more information and to read Sydney's winning bid for World Pride 2023, visit: www.mardigras.org.au for details.
Image: courtesy of Sydney Gay and Lesbian Mardi Gras