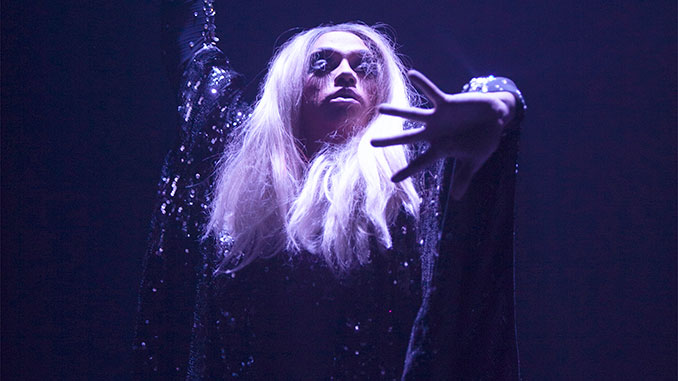 From the phenomenal parade to poignant talks, dazzling nights of live performance and visual feasts of fancy, the Sydney Gay and Lesbian Mardi Gras Festival returns in 2021 with a glittering program of events from Friday 19 February.
With a jam-packed program of events, performances, exhibitions and community activities, there's something for everyone at the world's biggest, and most spectacular celebration of LGBTQI+ pride and diversity, culminating with the iconic Sydney Gay and Lesbian Mardi Gras Parade on Saturday 6 March at the Sydney Cricket Ground.
The 2021 Mardi Gras theme is RISE a poignant message during the challenge and hardship that the last 12 months has presented. The theme is a call to action that now is the time to rise again through love, compassion, respect and understanding, and to work together to make the world a better place for all.
"It's no secret that the last 12 months have been difficult for communities across the globe, and it has been especially difficult for minority groups and those working in the arts and culture industries," said Mardi Gras CEO Albert Kruger.
"So while this year's Mardi Gras Festival may look different than in seasons past, we're incredibly proud to deliver a line-up of events that speak to the queer experience, entertain audiences, and support our incredible LGBTQI+ creatives."
Highlights of the 2021 Festival includes:
Beautiful Thing
New Theatre: Wednesday 3 February – Saturday 6 March
When Jonathan Harvey wrote this tender, open-hearted play about two damaged boys and the love that heals them, the age of consent for gay sex in the UK was still 21, it was illegal to 'promote' homosexuality in schools, and civil unions and same-sex marriage weren't even on the radar. Yet, nearly 30 years on, it still holds remarkable power, because so much of what it explores is timeless: discovering your sexuality, finding love and acceptance, fighting your demons, surviving against the odds, being an outsider, and the importance of community.
The Pass
Seymour Centre: Thursday 11 February – Saturday 6 March
Fixed Foot Productions presents the Australian premiere of John Donnelly's critically acclaimed play, The Pass – a powerful, timely drama that asks: how much are you willing to lose in order to win? A hit at The Royal Court Theatre in London and later adapted into a BAFTA-nominated feature film, The Pass deftly explores the corrosiveness of high-end celebrity culture and the consequences of toxic masculinity. It shines a light on the prejudice that still runs rampant in the world of elite sport, and as Jason and Ade navigate this world for themselves, it powerfully illustrates the cost of repressing your identity, and asks what's lost when you win.
Mardi Gras Film Festival
Various venues and online: Thursday 18 February – Thursday 4 March
With 90+ films in the program and over 50% being available to stream on-demand Australia wide, there are so many ways you can experience Queer Screen's 28th Mardi Gras Film Festival. Highlights include, Colin Firth and Stanley Tucci in the moving Supernova; the very timely The Obituary of Tunde Johnson that brings to the forefront the issue of racism and police brutality; the incredible chemistry of rising star Vanessa Kirby and Katherine Waterston in The World to Come, and one of the most celebrated films of the last year Suk Suk.
SKIN DEEP 
National Art School: Thursday 18 February – Sunday 7 March
Presented by NAS Queer Contemporary, SKIN DEEP is an interactive exhibition that presents intimate and personal stories of LGBTQI+ people through their tattooed bodies and stories, celebrating diversity, defiance and body art. The exhibition is made up of several unique components – presented as one integrated audience experience or as separate experiences. LGBTQI+ community participation is central to all components of SKIN DEEP – as narrators, models, story tellers and performers.
Oxtravaganza
Oxford Streets and surrounds: Friday 19 February – Sunday 7 March
Now in its fifth year, Oxford Street's annual Oxtravaganza is back, bigger and bolder than ever, with celebrations and activations over the full two weeks of the Mardi Gras program. This celebration of Oxford Street will see 100+ local businesses coming together to offer special retail promotions, live music, viewing parties, exclusive performances, outdoor entertainment, art walks, plus food and drink deals.
Laugh Out Proud
Enmore Theatre: Friday 26 February
After a sold out inaugural event in February 2020, Mardi Gras' comedy gala is back for a night of belly laughs with Australia's best and brightest LGBTQI+ comedians. Featuring a stellar line-up of hilarious queer stand-up talent, Laugh Out Proud is Mardi Gras' comedy event of the year! Hosted by the award-winning Nath Valvo, Laugh Out Proud has loads of comedic talent for one incredible night only – including: Geraldine Hickey, Mel Buttle, Thomas Jaspers, Rosie Piper, Margot Tanjutco, Selina Jenkins, Jake Howie, Nina Oyama and Jay Wymarra.
My Trans Story
NSW Teachers Federation Auditorium: Friday 26 February
At a time when the trans experience is becoming more visible we still rarely see stories by trans and gender diverse people on a screen, in theatres, a bookshelf or in popular culture and when we do, they focus on coming out and surgery or discrimination and hate crimes. From the personal to the political My Trans Story features proud trans and gender diverse storytellers from Sydney and beyond, including Tea Uglow, Andrew Guy, Rusty Nannup Joel Murray, Olivia Stewart and Victoria Anthony, celebrating their complex, sometimes funny, often fearless, always fierce histories.
My Drag Story
NSW Teachers Federation Auditorium: Saturday 27 February
With Priscilla, Queen of the Desert stamped on our national identity and Drag Race sashaying across screens there's no doubt Drag has sunk its six-inch heels into the mainstream. From the high-glam era of Les Girls and Capriccios to the diverse fabulousness many decades later – our nation's alumni of drag artists have proudly carved a cheeky and quintessentially Aussie path through our cultural playbook. My Drag Story uncorsets seven queens, kings and gender defying royals to reveal what's beyond the painted façade, including Amelia Airhead, Cindy Pastel, Nana Miss Koori, Sexy Galexy – full lineup to come.
Queer Thinking
NSW Teachers Federation Auditorium: Saturday 27 February
Queer Thinking is Mardi Gras' program of talks where audiences are invited to unpack a range of issues faced by the LGBTQI+ community both in Australia and abroad in thought-provoking conversations about the world we live in, with panels curated by Julie McCrossin AM, Benjamin Law and Patrick Abboud.
Queer Nu Werk: Werk Harder
Universal Sydney: Wednesday 3 March
In a special edition, Performance Space curates a lineup of Sydney's leading queer contemporary and experimental artists in a raucous celebration of queer performance, queer bodies and queer perspectives. Full line-up announcement to come.
---
The 2021 Sydney Gay and Lesbian Mardi Gras Festival runs from Friday 19 February until Sunday 7 March. For more information, visit: www.mardigras.org.au for details – or check out the digital program guide.
Image: Queer Nu Werk – courtesy of Performance Space