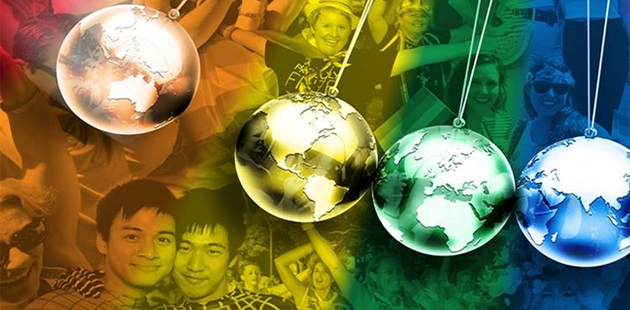 As the last shiny remains of glitter are swept from the streets of Sydney, we look back on what was a truly wonderful 2016 Sydney Gay and Lesbian Mardi Gras Festival.
Our theme, Momentum was embraced by all – a reminder, as we reflect on all that has been achieved, that every small step forward joins with all the other small steps to create a global momentum for change.
Mardi Gras 2016 was an amazing celebration of our vibrant community and saw 17 days jam-packed with over 120 events that crossed everything from in-depth discussion panels and forums, art exhibitions, sports competitions, world premiere theatre and special one-off performances and concerts.
There were some great successes for this year's Festival, including:
Our world famous Parade was one of our biggest yet with over 170 floats and 12,500 participants;
Supporters from all over the world came together as spectators to celebrate and champion equal rights – the largest crowd we've ever had in attendance;
New opportunities to celebrate together with amazing films and shows at The Harbour;
Over 80,000 community members and their supporters attended Fair Day;
And our MG Party was a complete sell-out event.
There is a dedicated Mardi Gras team made up of members, staff and volunteers who work hard and with great devotion to make each season better than the last. We would like to express our deepest gratitude to these hard working individuals – without you there would simply be no Mardi Gras. And to our sponsors, partners, supporters, government agencies and suppliers who make all of this possible – we couldn't do it without you.
We would also like to thank CEO, Michele Bauer for being the driving force behind many of the highlights of the 2016 festival. As many know, Michele's tenure as CEO was an interim appointment. After 3 years in Board leadership roles, Michele stepped into the CEO role to help guide the Festival through the 2016 season. Michele's dedication and leadership, along with strong passion for the community helped bring to life the vision for Mardi Gras 2016.
As Michele embarks on a new journey, we celebrate and thank her for her dedication to Mardi Gras and the community. Her hard work, innovation, integrity and commitment were integral to producing this mammoth celebration of the LGBTQI community.
We are now recruiting for a permanent CEO for Mardi Gras and call on any interested parties, with the relevant experience and passion for the LGBTQI community to apply using the following links: LinkedIn or Seek.
As we reflect back on this incredible and successful season, so too do we look to the future. We are focussed on building the vision for the next few years of the Festival. Our annual strategic planning is underway and there are many exciting developments in the pipeline to keep Sydney Gay and Lesbian Mardi Gras thriving.
We look forward to sharing this vision with our Members and take the journey together to make memories, express our views, insist on equality and to celebrate all that is brilliant about our LGBTQI community.
For more information, visit: www.mardigras.org.au for details.
Image: courtesy of Sydney Gay and Lesbian Mardi Gras