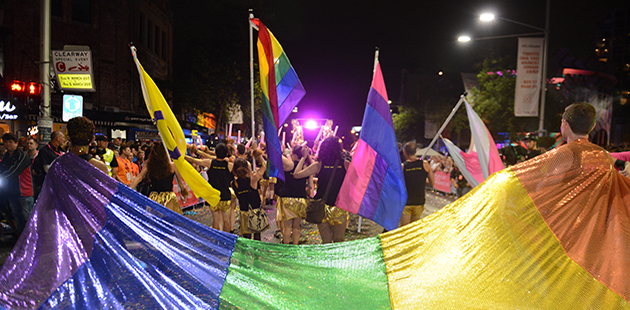 Sydney Gay and Lesbian Mardi Gras (SGLMG) has announced it is reaching out to the community to seek its views on whether a change in the organisations name will be seen as more inclusive.
In a statement circulated earlier this week, SGLMG said "Over the past few years, Mardi Gras have often heard from the LGBTIQ community that the organisation's name isn't as inclusive – only specifying 'Gay' and 'Lesbian' – without mention of transgender, bisexual, intersex, or any other sexuality or gender identity."
"Many Mardi Gras members, community groups, event organisers, patrons and visitors question how to make the festival more inclusive and how the name could reflect the community and our people's diversity more accurately."
"Changing a name with decades of community history behind it is not something we'd do lightly; therefore we want to hear from our members, supporters and wider community on ideas, concerns and hopes for a potential name change."
In response SGLMG has extended an invite to the wider community to attend a Forum at the Eternity Playhouse, Darlinghurst on Sunday 7 April 2019 (4.00pm) to provide members with a wider breath of inputs, especially by groups that may feel under-represented and not fully included.
SGLMG Co-Chair, Giovanni Campolo-Arcidiaco, said the Board felt it was the right time to engage the community on a potential name change. "We do not take the matter lightly and understand that a change to our organisation's name can only happen by a vote of our members at a General Meeting," he said.
"Our members will have the ultimate say, but we want to live up to our commitment for inclusion. That's what the proposed name change is for: supporting members of our community who feel excluded."
Mardi Gras members have already been invited to engage with SGLMG and to complete a survey at the end of the consultation process to provide feedback on the name. Only Mardi Gras members will eventually have the opportunity of a final vote, change or not, at a General Meeting.
For more information and to RSVP to the Forum, visit: www.mardigras.org.au for details.
Image: Sydney Gay and Lesbian Mardi Gras Parade (supplied)