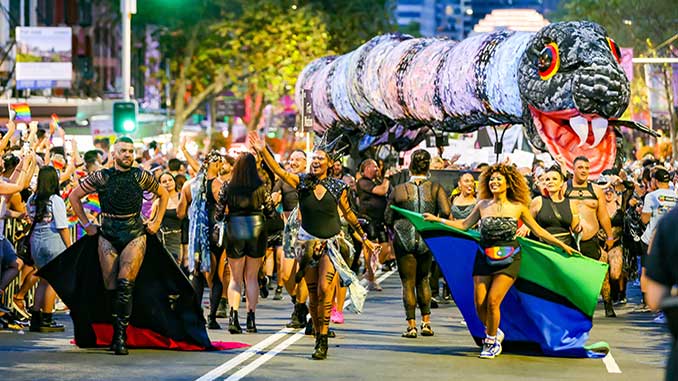 The world-renowned Sydney Gay and Lesbian Mardi Gras Parade returned to Oxford Street on Saturday 25 February 2023 to celebrate the 45th anniversary of the first Mardi Gras march.
The event united individuals from the LGBTQIA+ communities to showcase their pride, advocate for equal rights and express their passion.
As the centerpiece of the epic Sydney WorldPride Festival, the Parade was a spectacular sight as over 12,500 marchers and 208 floats took to the streets.
The parade was led by First Nations, 78ers and the Dykes on Bikes, along with a range of colourful, political, satirical and imaginative floats that have made the Parade famous over the years.
This year's Festival theme, Gather, Dream, Amplify, came to life as bigger floats adorned the entirely revamped route. With lighting and firework displays enhancing the spectacle of the Parade, the route went from Hyde Park to Moore Park and included a new Parade route milestone, Drivers Triangle, located by the new Parade Viewing Areas Club Cindy presented by American Express and Ruby Road.
"After delivering the world-class Parade through the Pandemic over the past two years, we are thrilled to see the community unite once more on Oxford Street," said Sydney Mardi Gras CEO, Albert Kruger.
With over 200 floats representing all corners of our communities, this is the perfect celebration as the world descends on Sydney for the first WorldPride in the Southern Hemisphere and we commemorate the 45th anniversary of the first Sydney Mardi Gras."
Minister for Tourism and the Arts Ben Franklin said the NSW Government's support of the Sydney Gay and Lesbian Mardi Gras shows its commitment to make NSW a welcoming destination for all visitors.
"We are immensely proud to be hosting the largest Pride event in the world. Mardi Gras is the biggest jewel in the WorldPride crown and was enjoyed by thousands on the streets and millions across the world," said Mr Franklin.
"The Mardi Gras Parade is about celebrating diversity, inclusion and showcasing Sydney on the world stage. It was fantastic to see the Pride community coming together to celebrate as one."
The 2023 Sydney Gay and Lesbian Mardi Gras Festival is proudly supported by Principal Partner American Express, Government Partner of the Mardi Gras Festival, the City of Sydney, and Strategic Sponsor the NSW Government through its tourism and major events agency, Destination NSW.
---
Sydney WorldPride 2023 continues to Sunday 5 March. For more information, visit: www.sydneyworldpride.com for details.
Image: Sydney Gay and Lesbian Mardi Gras Parade – photo by Rocket K Photography