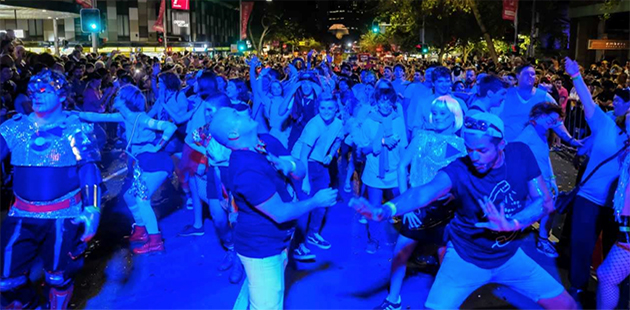 Sydney Gay and Lesbian Mardi Gras has announced they're collaborating with a selection of LGBTQI community groups this year to create three significant community floats.
"The aim of this collaboration is to help create three floats in line with our commitment to social justice for LGBTQI communities, incorporating our 2019 theme Fearless and to shine a spotlight on these groups, their members and their causes," says Mardi Gras CEO Terese Casu.
"The three groups Mardi Gras will be working with are Selamat Datang GLBTQI, Twenty10 and Trans Pride Australia. Initial concepts and plans are already well underway and all three promise to be unique, diverse and spectacular floats," adds Mardi Gras Creative Director Greg Clarke.
Selamat Datang GLBTIQ is an organisation created to show support for LGBTQI people in Indonesia and their struggle for acceptance in Indonesian society. Selamat Datang GLBTIQ helps to fundraise for LGBTQI organisations in Indonesia as well as fundraising for people living with HIV/AIDS in Indonesia. Selamat Datang GLBTIQ also promotes organisations on the ground in Indonesia who support the LGBTQI community. This is the only organisation in Australia for LGBTQI Indonesians and their friends.
Twenty 10 work primarily with young people across Sydney and New South Wales who are lesbian, gay, bisexual, transgender and gender diverse, non-binary, intersex, questioning, queer, asexual and others of diverse genders and sexualities, their families and communities. They provide a broad range of specialised services for young people 12-25 including housing, mental health, and counselling and social support.
Trans Pride Australia is a social and support group for trans and gender diverse people and their loved ones in Australia. With a vision for all trans and gender diverse people to live their greatest possible life, Trans Pride Australia creates a safe and supportive online environment, hosts social and commemorative events and celebrations, and promotes visibility and awareness of trans and gender diverse matters in the greater community.
Sydney Gay and Lesbian Mardi Gras is also planning a Welcome to Country ceremony in collaboration with Rainbow First Nations and is continuing its ongoing support of the 78'ers group at Parade.
Following the earlier announcement that the workshop space secured for 2019 had been damaged by storm activity, Mardi Gras has announced that a new space has been found on a short-term basis for 2019. A new creative community access program at the Mardi Gras Workshop is also now being created and full details will be announced shortly.
The 2019 Sydney Gay and Lesbian Mardi Gras runs 15 February – 3 March. For more information, visit: www.mardigras.org.au for details.
Image: Twenty 10 at the 2018 Mardi Gras Parade – photo by Clare Hawley