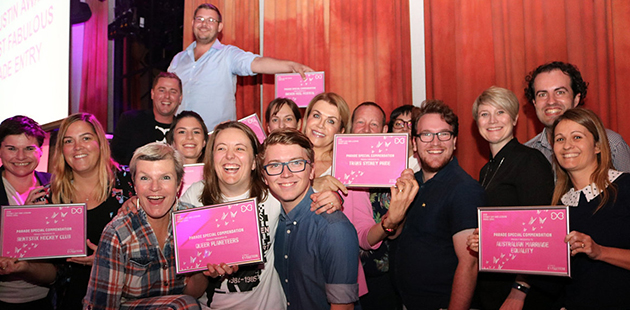 Volunteers, Parade entrants, Fair Day and Festival participants, staff, board and community supporters have come together to celebrate the announcement of the 2018 Sydney Gay and Lesbian Mardi Gras Awards on Thursday 26 April at The Beresford Hotel.
The Awards Ceremony signifies the official end of this year's spectacular 40th anniversary season, and an opportunity to recognise excellence across the huge season of events, honouring those individuals and groups amongst the community who go above and beyond to make the festival extra special.
The 2018 Sydney Gay and Lesbian Mardi Gras Award Winners are:
Fair Day Awards:
Fair Day Stall Of The Year: Sydney Local Health District Incorporating Breastscreen
Best Food Stall Food: Kapamilya Eatery
Best Standard Stall: Bourke Street Wax
Best Sport Stall: Sydney Women's Baseball League
Best Community Stall: People With Disability Australia
Special Commendations: Glitoris, Relationships Australia, And Sydney Roller Derby League Incorporated
Parade Awards:
The Ron Austin Award for Fabulous Parade Entry: SM&M The Other 39ers
Best Choreography: Sydney Queer Irish
Ron Muncaster Award for Best Costume: 40 Years of Colour
Best Float Design: Free Gay and Happy
Special Commendations: Australians for Equality, Australian Marriage Equality, People with Disability Australia, Trans Sydney Pride, Queer Planeteers, Bentstix Hockey Club, Broken Heel Festival
Best Shop Window:
A new award for outstanding storefront windows on Oxford Street or King Street during Mardi Gras 2018: Daly Male
Workforce Awards:
Excellence in Innovation: Paul Truscott
Excellence in Leadership: Rocky Talantou
Excellence in Service: Rachel Smith
Excellence in Teamwork: Felix Wark
ICARE Award: Hayley Wyndham
Volunteer of the Year: Shane Farr & Gus Little
Lifetime Achievement Award:
Leonard Watson
For more information, visit: www.mardigras.org.au for details.
Image: Sydney Gay and Lesbian Mardi Gras 2018 Special Commendations – photo by Matt Akersten