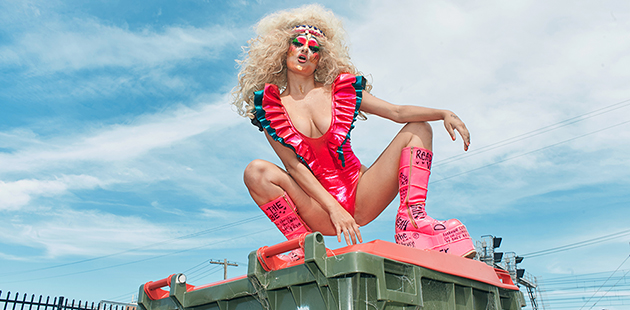 The Sydney Fringe Festival has revealed its 2017 program, opening ticket sales for more than 300 productions presented from 1 – 30 September at 42 partner venues across inner Sydney.
Spanning theatre, physical theatre and circus, music, comedy, visual art, film, cabaret, musical theatre, dance and the spoken-word, Fringe will for the first time in 2017 be based out of a new expansive Festival Hub at Sydney Park in Alexandria.
The HPG Festival Hub will see a 7000m2 warehouse transformed into multiple performance and exhibition spaces that will be home to immersive light, art and theatre experiences, music and theatre performances, a 200-seat vegan feast, a masquerade ball and numerous installations.
"The inaugural HPG Festival Hub is Sydney Fringe Festival's largest and most exciting activation to date and the result of a major new partnership with local property developer, HPG Australia," says Sydney Fringe CEO and Festival Director Kerri Glasscock. "It will see the warehouse space – roughly the size of an airport hangar – transformed into a thriving independent arts centre and festival hub."
Highlighting the city's vibrant culture, this year's Festival takes to the streets inviting audiences to engage with 'what's new': new art, new activations, and new, young artists (60% under the age of 30). More than half of the productions in the 2017 program are world premieres, whilst 63% of productions will be Australian premieres and a further 83% Sydney premieres.
The Fringe Ignite Launch Party celebrates the opening of the Festival on Saturday 2 September, presenting a series of live music gigs and performances from 3.00pm until 8.00pm at Kensington St Chippendale. This event, curated by one of Australia's most dynamic vocalists NGAIIRE, will see performances scheduled across the day in shops, bars and restaurants along the street, converting them into free pop-up venues filled with live music and performances, full lineup announced in August.
Heaps Gay continues the celebration of the opening weekend with their Masqueerade for two nights only on Saturday 2 and Sunday 3 September, transforming the HPG Festival Hub into a world of mystery and disguise where reality is suspended and art becomes real life.
An extended family program of events will be offered with FRINGE KIDS presented over the first week of the school holidays and last week of the Festival from 23 – 30 September, including circus show The Boy Who Was Born With A Moustache and an interactive and unpredictable music and storytelling performance, Ghost Jam! – that reimagines Japanese ghost stories.
This year's Fringe includes two world premiere theatre experiences, and a world first interactive art exhibition. Silent Theatre, presented by Sydney Fringe Festival together with Urban Newtown, will invite audiences to voyeuristically observe the happenings in the hotel watching from the streets below, catching glimpses through the hotel windows whilst listening to the story unfold through headphones, and Mongrel Mouth's UNDERTAKING takes over a section of the HPG Festival Hub with a fully immersive theatrical experience.
World renowned British Gif-iti artist INSA will exhibit a world first retrospective of his innovative GIF-iti works in the main courtyard of World Square in the city, taking street art and converting them into animated GIFs. Visitors are encouraged to download the 'Gif-Iti' app to interact with the artworks, with the works coming to life when patrons hover their phone screens in front of the suspended artworks.
Performance will spread throughout the city with the musical stylings of Billie McCarthy Takes Up Space, the large-scale theatrical piece The Nose at the HPG Festival Hub, award winning NZ dance work Fabricate, the electric odyssey Puntilla/Matti, and Eternal Summer – a theatrical re- imagining of contemporary Australian song cycles.
Cirque Africa, the biggest selling show at the 2017 Adelaide Fringe, featuring 15 performers from six African countries backed by a live African band, will take over the Big Top in Sydney Park. Visual arts highlights include a Wig Exhibition in Broadway Shopping Centre by hairdresser and wig extraordinaire Shaun McGrath, and the return of the Stencil Art Prize – the world's largest stencil event.
Film festivals will also feature at this year's Fringe with Cinewest presenting a series of mini film festivals in the historic Newington Armoury in Homebush and the entire Stockholm Fringe film program will be transported to Sydney and screened in a giant warehouse for the first Stockholm Sydney Artist Exchange.
This year's festival includes two huge music events. The Global Rhythms music festival returns for its fifth year on 24 September, filling Glebe's Bicentennial Park with a family friendly kaleidoscope of sound, food and art featuring a lineup of performances from San Lazaro, Alphamama, King Tide and The Strides with Afro Moses (Homage to Fela Kuti) along with more to be announced. Lah Lah's Big Live Band and the Sydney Youth Orchestra join together for a special collaboration on Saturday 30 September, performing in the Sydney Town Hall to close the festival.
The 2017 Sydney Fringe Festival runs 1 – 30 September. For more information and full program, visit: www.sydneyfringe.com for details.
Image: Betty Grumble – photo by George Sandman Popov