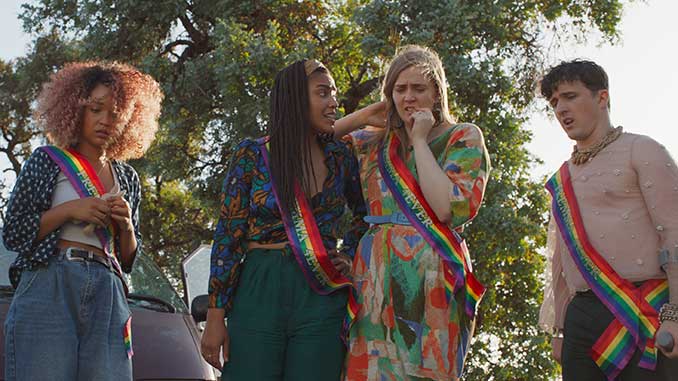 The 69th Sydney Film Festival has revealed a sneak peek of 22 new films to be featured in this year's June event. The announcement is in advance of the full program launch on Wednesday 11 May 2022.
"This first taste of the Festival's 2022 program gives audiences a snapshot of the selection and flavour of films featured in our first full-scale Festival since the pandemic began," said Sydney Film Festival Director Nashen Moodley.
"The past few years have been tough for the film industry, with many films halting production across the globe. Now the world is starting to open back up again, we're seeing a resurgence of gutsy, innovative and compelling storytelling. It's an exciting time to be programming a film festival when there is such a wealth of ground-breaking films, giving audiences an opportunity to discover unique and timely stories from home, and across the world."
"The 22 films revealed take us on a kaleidoscopic odyssey of the human experience. Travel across space and time with features about lovers bonding in virtual reality through the COVID-19 lockdowns, to rich Westerners behaving badly in the High Atlas mountains of Morocco, to a single mother liberated from her husband in 1980s Paris. And land back in Australia for tales of a millennial's Instagram-obsessed hen's weekend that goes very badly."
"From an insightful documentary uncovering the struggles of the Indigenous Uru-eu-wau-wau people to protect their Amazonian homeland to a real-life narrative following female street dancers training for Australia's biggest dance competition, these films are indicative of the incredible local and international titles in this year's program," said Moodley.
HOT FILMS:
Hannah Barlow and Kane Senes show audiences that revenge is a dish best shared on Instagram with Sissy. A SXSW success, this clever Australian horror sees an influencer played by Aisha Dee (The Bold Type) encounter her childhood tormentor on a hen's weekend.
The inimitable John Michael McDonagh's (Calvary – SFF 2014) black comic drama The Forgiven features global stars Jessica Chastain (Oscar winner for The Eyes of Tammy Faye – SFF 2021) and Ralph Fiennes (The White Crow – SFF 2019) depicting the entitlement of Westerners juxtaposed with the lives of ordinary Moroccans in a merciless neo-colonial society.
Luke Cornish's Sydney documentary Keep Stepping is about two remarkable female performers training for Australia's biggest street dance competition, Destructive Steps: a tale of love, obsession and the transformative power of performance.
Audience Award and Special Jury Award (World Cinema Documentary) winner at Sundance 2022, The Territory, is Alex Pritz's debut about the struggle of the Indigenous Uru-eu-wau-wau people of Brazil as they are forced to protect their motherland from underpaid and ambitious farmers.
Direct from the World Cinema Documentary Competition at Sundance 2022 is Joe Hunting's We Met in Virtual Reality, where love, fantasy and technology coalesce in this ground-breaking documentary filmed entirely inside the world of VRChat during the pandemic.
Macario De Souza's (Bra Boys) film 6 Festivals doubles as an emotional tale of friendship and a celebration of Australia's iconic festival scene, with cameos by several notable local music acts including Bliss n Eso and Peking Duk, as a young group of friends attempt to attend as many music festivals as possible in the wake of their friend's serious diagnosis.
Asa Butterfield (Sex Education, X + Y – SFF 2015) and Gwendolyn Christie (Game of Thrones, In Fabric – SFF 2019) star in Flux Gourmet – a deliciously deadpan comedy by British outré cinema master Peter Strickland (In Fabric – SFF 2019), for an outrageous film depicting the residency of a 'culinary collective' that turns cooking sounds and supermarket shopping into performance art.
French filmmaker Mikhaël Hers' (Amanda) slice-of-life drama set in 1980s Paris, The Passengers of the Night, casts Charlotte Gainsbourg (Sundown, The Tree – SFF 2010, Antichrist) as a single mother rediscovering herself after being left by her husband.
Please Baby Please is a genderqueer musical starring Andrea Riseborough (Shepherds and Butchers – SFF 2016) and Demi Moore (Songbird) as a 1950s Manhattan couple unlocking a sexual awakening within themselves after witnessing a violent incident.
Direct from the 2022 Rotterdam International Film Festival is Australian docudrama The Plains, set almost entirely in the world of a car during peak-hour traffic in Melbourne by director David Easteal (Monaco). The film paints a compelling portrait of a fifty-something lawyer facing an existential crossroads.
Devery Jacobs (Reservation Dogs, The Sun at Midnight – SFF 2017) stars in social drama Bootlegger, about two women on opposing sides of the debate around the legalisation of the sale of alcohol in a First Nations community in Northern Quebec.
INTERNATIONAL FESTIVAL FAVOURITES:
International festival prize-winners include Golden Shell winner at San Sebastián 2021, Blue Moon, which depicts a young woman rebelling against her dangerously dysfunctional family in a gripping first feature by Romanian writer-director Alina Grigore.
Directing Award (World Cinema – Documentary) winner at Sundance 2022, A House Made of Splinters by Simon Lereng Wilmont (The Distant Barking of Dogs – SFF 2018), is a heart-tugging documentary filmed in pre-invasion Ukraine, chronicling a small group of indefatigable social workers who run a temporary refuge for neglected children.
Toronto 2022 NETPAC Award and London Film Festival 2022 Audience Award winner Costa Brava, Lebanon, stars BAFTA-nominee Nadine Labaki (Rock the Casbah – SFF 2014) and Saleh Bakri (Wajib – SFF 2018). The film follows a family who quit life in Beirut for a more peaceful existence in the mountains, only to find that escape is not so easy.
Toronto 2021 Platform Prize winner Yuni by Indonesian filmmaker Kamila Andini (The Seen and Unseen – SFF 2018) follows a bright Indonesian student, exploring her ambitions in contrast to the societal pressures she faces in her conservative Indonesian community.
Venice Days 2021, BNL People's Choice award winner, Private Desert is Aly Muritiba's (Rust) poignant tale exploring ideas around desire and masculinity as the film follows a disgraced police officer who wanders the country in search of an online lover who has ghosted him.
Also from Sundance 2022 are Calendar Girls, Swedish filmmakers Maria Loohufvud's and Love Martinsen's uplifting, joyous documentary about a 60+ female dance troupe; as well as Sirens, Rita Baghdadi's (My Country No More) arresting documentary about the Middle East's first all-female, queer death metal band which skilfully captures their magnetic energy while highlighting their battle to stake a place in their homeland's culture.
EUROPEAN GEMS:
European cinema will have a strong presence throughout the Festival's program with tales like Gentle – the first Hungarian film selected for competition at Sundance, starring real life bodybuilder Eszter Csonka, an athlete willing to sacrifice everything for perfection and success.
Stefan Ruzowitzky, director of Oscar winner The Counterfeiters, honours the great age of German Expressionism with Locarno Film Festival Audience Award winner Hinterland – a visually stunning thriller set in the underbelly of post-WWI Vienna, about a returned prisoner-of-war's quest to catch a serial killer.
And cult French filmmaker Quentin Dupieux's (Deerskin) goofy time-travel romp Incredible But True starring Alain Chabat (Mood Indigo – SFF 2018), sees an average suburban couple move into their dream home only to become victims of strange bouts of topsy-turvy time travel as a result of their mystical basement.
FAMILY FRIENDLY:
The first of this year's Family Films is Super Furball Saves the Future – a fun animated film following a young girl who must save the world from a future without bees. Directed by Joona Tena (Arctic Circle), this film is perfect for kids aged 10 years and up.
---
The 69th Sydney Film Festival runs 8 – 19 June. The full program will be announced on Wednesday 11 May 2022. For more information, visit: www.sff.org.au for details.
Image: Sissy (film still)