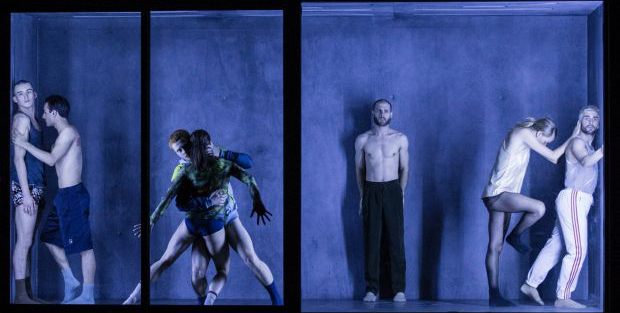 Following its critically acclaimed world premiere season earlier this month, Sydney Dance Company continues its 2017 season in Melbourne and Canberra with the latest creation from Artistic Director Rafael Bonachela, and the Company's first ever collaboration with a Taiwanese choreographer, Cheng Tsung-lung.
Meaning eight in Spanish, Ocho marks Rafael Bonachela's eighth year with the Company and features eight virtuosic dancers. Fusing an industrial dreamscape with a surging electronic score by Nick Wales featuring haunting vocals by Aboriginal singer Rrawun Maymuru of the Mangalili clan, Ocho explores the infinite connections that exist between us all.
Full Moon by Cheng Tsung-lung completes the double bill. This striking new piece harnesses the power of the moon and the mythology and poetry of mankind to thrill the audience.
"Living in our modern world, the vibrant city lights have endlessly fascinated me and occupied the interspaces of my sight and feelings at night," says Cheng Tsung-lung. "On the contrary, the moon, nature's symbolic beauty of night, shines light into my eyes and helps me uncover the mysteries of the unconscious world which I do not know, yet I feel exist."
Cheng Tsung-lung is the Artistic Director of Taiwan's phenomenal Cloud Gate 2, the sister company of the renowned Cloud Gate Dance Theatre. In 2012, Tsung-lung won the most prestigious arts prize in Taiwan, the Taishin Arts Award, and received a Performing Arts Fellowship from the Asian Cultural Council. He has choreographed and re-staged works for Transitions Dance Company in London, Expressions Dance Company in Brisbane and Focus Dance Company in Taiwan. 
"Sydney Dance Company is thrilled to present Full Moon as part of our double-bill Orb," says Bonachela. "This very special and innovative work has been created for our dancers by Cheng Tsung-lung. It will be the company's first collaboration with an Asian choreographer, which is very exciting for us."
"Full Moon is inspired by the real and symbolic beauty of our planet's nearest neighbour and the importance of the moon to Taiwanese and Chinese culture. Tsung-lung wants to convey the idea that if we raised our heads and looked up at the moon, we might discover the mysteries of the universe."
"There were so many expressive, powerful performances from this cast that it seems unfair to single any particular dancer out. Ocho really packs a punch." – Dance Australia
Ocho:
Choreographer: Rafael Bonachela Composer: Nick Wales Lighting: Damien Cooper Costumes and Sets: David Fleischer
Full Moon
Choreographer: Cheng Tsung-lung Composer: Lim Giong Lighting: Damien Cooper Costumes: Fan Huaichih
ORB
Playhouse – Arts Centre Melbourne, 100 St. Kilda Road, Melbourne
Season continues to 20 May 2017
Bookings: www.artscentremelbourne.com.au
Canberra Theatre Centre, London Circuit, Canberra
Season: 25 – 27 May 2017
Bookings: www.canberratheatrecentre.com.au
For more information, visit: www.sydneydancecompany.com for details.
Image: Rafael Bonachela's Ocho – photo by Pedro Greig