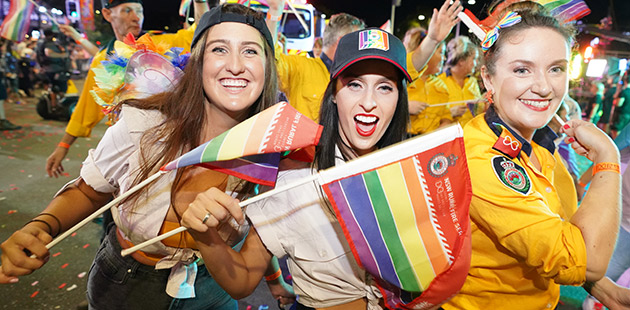 The Sydney Gay and Lesbian Mardi Gras Parade took place last night (Saturday 29 February), bringing together an estimated 300,000 spectators who lined the streets, balconies and rooftops of Oxford Street to cheer on the 12,600 marchers taking part in the world's biggest celebration of the LGBTQI community.
Mardi Gras' 2020 theme was WHAT MATTERS – a motif that built on the legacy of Mardi Gras as a platform for activism and encouraged the public to examine what can be done to build an even more inclusive future. Many of the floats in the Parade used the theme as a call to action, choosing to showcase a diverse array of important issues facing the community.
"Last night was a dazzling display of diversity that brought together people from across the globe to celebrate what truly matters," said Sydney Gay and Lesbian Mardi Gras CEO Albert Kruger. "In total there were 191 floats, representing a spectacular cross section of the community and each bringing their own terrific twist to this year's theme."
"This year we collectively reflected on a number of issues facing our community. From LGBTQI homelessness to the Australian bushfires and climate change, many of this year's floats had a distinct point of view on the issues that matter most. And of course, having Sam Smith and Dua Lipa join us on the parade route was a fittingly glittering finale to a truly unforgettable night," added Mr Kruger.
As the sparkling spectacle came to a close, 12,000 revelers kept the celebration going at the iconic Mardi Gras After Party, which took over Hordern Pavilion and surrounding venues until 8.00am Sunday morning. Artists who performed at the Party included international superstars Dua Lipa, Kesha and Sam Smith, as well as Brazilian drag phenomenon Pabllo Vittar.
The electrifying line-up of local and international DJs included: Ayebatonye, Cupids Cut, Charlie Villas, DJ Kilimi, Estée Louder, Kate Doherty, Magda Bytnerowicz, Trinity, Whiskey Houston, DJ Hamo, Kate Monroe, DJ Nate, Atomic Blonde & Dutch Kiss, Dameeeela, Barry Harris (CAN), Midland (UK) and DJ Joelby (UK)
The 2020 Sydney Gay and Lesbian Mardi Gras Parade was proudly supported by the NSW Government through its tourism and major events agency Destination NSW. For more information, visit: www.mardigras.org.au for details.
Image: Emergency Services were well received at the 2020 Mardi Gras Parade (supplied)