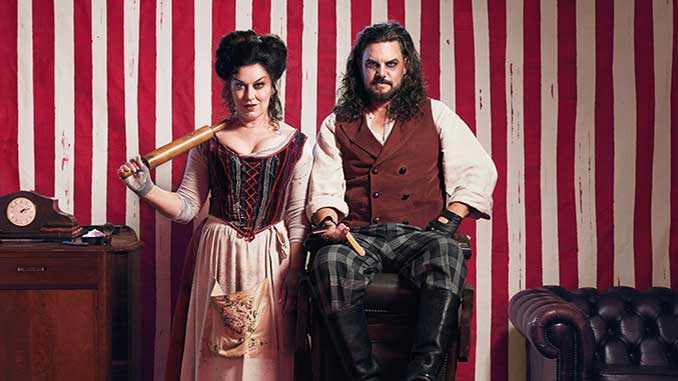 With generous servings of greed, lust, and vengeance, Sweeney Todd: The Demon Barber of Fleet Street is coming to the Sydney Opera House this winter from 22 July to 27 August.
Winner of eight Tony Awards, including Best Musical, Sweeney Todd has thrilled audiences worldwide with its emotive score and compellingly complex characters.
Stephen Sondheim's celebrated music and lyrics, and book by Hugh Wheeler, tell the spine-chilling tale of a barber driven to madness, fuelled by a consuming desire for revenge in this deliciously dark exploration of human nature.
Stuart Maunder AM's celebrated production of the classic gothic musical will make its long awaited Sydney premiere after critically acclaimed seasons in Melbourne, Perth, and Adelaide, as well as a New Zealand tour with NZ Opera.
Starring Ben Mingay (Hacksaw Ridge, Pirates of Penzance, Packed to the Rafters) as musical theatre's most-loved villain, Sweeney himself, and Antoinette Halloran (Mary and Max, Macbeth, Summer of the Seventeenth Doll) as the madly devoted Mrs Lovett – this diabolical duo will lead an illustrious 18-strong cast and 9-piece orchestra.
"We've wanted to bring this musical thriller to Sydney for a very long time, so premiering it at the Sydney Opera House is an experience every bit as thrilling as the musical itself," said director Stuart Maunder.
There's no doubt that Sydneysiders will embrace this most theatrical tale of horror, which for all its blood and gore, tells a universal human story; revenge, obsession, and lust, yes, but also of pain, yearning, even love," he added.
"The tale of the demon barber of Fleet Street has captured imaginations for decades, as we delve deep into the mind of a man pushed to the very limit of his humanity," said Sydney Opera House Head of Contemporary Performance, Ebony Bott.
"This production of Sweeney Todd is a gripping night at the theatre sure to keep audiences on the edge of their seat."
Sydney Opera House presents this Victorian Opera and New Zealand Opera production, directed by Stuart Maunder, and featuring set and costume design by Roger Kirk AM, original lighting design by Philip Lethlean realised by Jason Morphett, and sound design by Jim Atkins.
"Few shows could boast such a superb union of technical, musical and artistic balance in a performance." – Paul Selar, Herald Sun
---
Sweeney Todd: The Demon Barber of Fleet Street
Drama Theatre – Sydney Opera House, Bennelong Point, Sydney
Season: 22 July – 27 August 2023
Information and Bookings: www.sydneyoperahouse.com
Image: Antoinette Halloran and Ben Mingay to star in Sweeney Todd: The Demon Barber of Fleet Street – photo by Daniel Boud