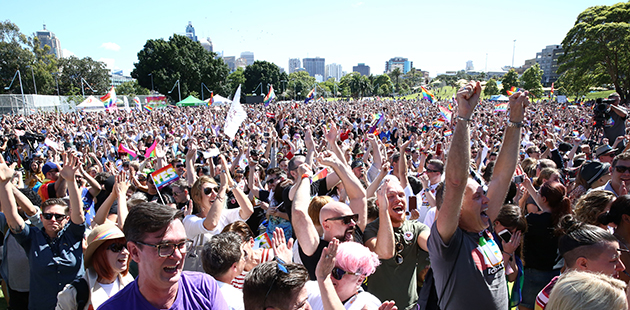 The Surry Hills lawn where 30,000 people gathered to hear the results of Australia's marriage equality postal survey in November 2017 could soon be named Equality Green.
The City of Sydney council has approved naming the central lawn in Prince Alfred Park 'Equality Green' as a permanent reminder of this significant event in Australian history. Following the City of Sydney Council's resolution on 24 June, an application regarding the proposed name will be made to the Geographical Names Board of NSW for their consideration and assessment.
"The name Equality Green is a fitting tribute to that joyous day when we gathered together in Prince Alfred Park to learn that love had won a landslide victory," said Lord Mayor Clover Moore. "Once approved by the Geographical Names Board, Equality Green will be a permanent reminder of decades of campaigning for marriage equality, and an acknowledgment of the resilience of our diverse LGBTIQ communities who endured the postal survey."
The naming proposal was open for public comment late last year. The majority of the 135 submissions received by the City were in support of the name Equality Green. Reflections shared with the City include:
"I was there with thousands of others at Alfred Park that day. Tears streaming down my face in relief and joy when it was announced 'Yes' had won."
And this comment:
"After a bitter and divisive campaign, it was such a relief for it to be over. My partner and I have since married after a 16-year relationship, and it feels wonderful to be equal! I'm proud to be a City of Sydney resident – it is such an inclusive city. Thank you for suggesting this part of the park be named Equality Green."
The co-chair of Australian Marriage Equality, Alex Greenwich MP, wrote to the Lord Mayor in September 2018, proposing that the City permanently commemorate the momentous event in Australia's progress towards equality and inclusiveness. Information about Equality Green will be included on an information panel on park signs near the site.
Image: Crowds gather at Prince Alfred Park for marriage equality vote – photo by Damian Shaw / City of Sydney