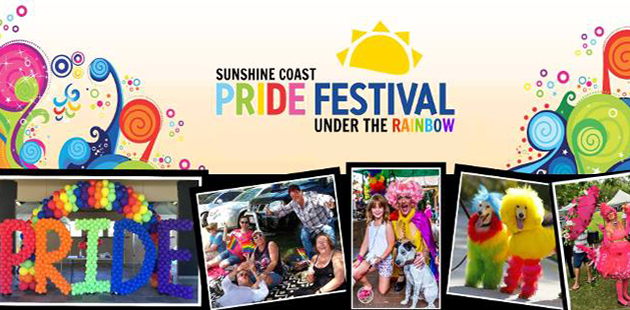 Celebrating 10 years of Pride, the Sunshine Coast Pride Festival is 3 days of activities, artists, venues, parties and performance, with a diverse line-up ranging from folk to dance musicians, DJs and Drag Queens all celebrating the Sunshine Coast's GLBTIQ community on the last weekend of February.
Running 24 – 26 February 2017, the Sunshine Coast Pride Festival grown from a very small one-day event at the local community centre, to a three-day Festival; based around one of our wonderful Festival Partners; Eumundi Markets – with events happening across the weekend from Noosa to Maroochydore.
"Celebrating 10 years of Pride on the Sunshine Coast brings love and connectedness to our hearts," says Sunshine Coast Pride Network Co-Chair Marj Blowers. "It has been wonderful to see how the Sunshine Coast and surrounding regions have evolved in their inclusivity over the years, attendance numbers to these events have grown from a few hundred to over 3000 in 2016."
Sunshine Coast Pride Festival is an LGBTIQ Event with the main aim being to celebrate our diversity and inclusivity, and promoting a fun and safe environment for the Lesbian, Gay, Bisexual, Transgender, Intersex, and Queer Community; their families, friends and the general public.
With this year's theme, Under The Rainbow – it is about acknowledging that we are all born under the same sky and we are all equal. The 2017 kicks off the celebrations at Villa Noosa Hotel on Friday Night with Melony Brests' Quiz Queen Trivia – Trivia has never been more twisted!!
Saturday 25 February is Fair Day and the Pride Paw Parade at the iconic Eumundi Markets. Kicking off with the exciting Ride-In by Dykes on Bikes at 8:30am – who doesn't love the sound and sight of those girls!
Visitors can meander through the number of health and wellbeing organisations on display, while the kids can enjoy free face painting and joining in on a balloon sculpture workshop in the kids zone! Sit and chill to the amazing line-up of entertainment including Darren Adler, Lizzy Maynes, Annie J Fusion, Mettaphor and Lea Sanson; with the Burlesque Girls back to excite you, and The Ukelele Sisters to keep you laughing.
We have SoLar and her beautiful music to accompany the Pride Exhibition, and special guests: and always an amazing drawcard, Kristy Apps and the Shotgun Shirleys! Not forgetting you will be look after by our very own Pride Hosts Melony Brests, Sal Monalla with special guests Holly Wood and Candy Surprise.
The Pride Paw Parade starts at 11.00am – so don't forget to get in early to register yourself and your furry friend! Dress to impress – and the chance to win some amazing Pooch Pamper Packs and personalised pet portraits.
A number of new events happening this year, beginning with local Artist, Lorelle Murray, who has put together a truly inspirational Pride Art Exhibition, running during Fair Day at the Eumundi Hotel. A first for any Pride event across Queensland to have an exclusive exhibition showcasing the expression of identity and belonging – it is a must see for everyone! Then party the night away, as Saturday night is Show Night at the Waterfront Hotel with Melony Brests and the Powderpuff Girls.
Sunday kicks off with PinkFitz and a stunning walk through Kondililla Falls followed by lunch and a swim, and then relax and make the most of the final day of the Festival, enjoying the soulful sounds of Lizzy Maynes at the Sunday Session/Chill-Out afternoon at our new supporters venue, The Post office Bar & Beer Garden.
Sunshine Coast Pride Network works very hard to support our local community, and we have been honoured to have been awarded the Healthy Towns Award  – Connections Between People. This award is based on the ability of community groups to bring people together, increasing social connections and providing a sense of belonging; resulting in a socially inclusive community. And we have also been nominated and shortlisted for the Australian LGBTI Awards Community Initiative Award for our Festival.
Sunshine Coast Pride Network Co-Chair, Fiona Anderson says the festival has some fantastic sponsors that continue to support us year after year "including our Founding Partner; The Queensland AIDS Council, as well as The Sunshine Coast Council and Eumundi Markets," she says. "We would like to recognise their generosity and continued faith in this event."
The 2017 Sunshine Coast Pride Festival runs 24 – 26 February. For more information, visit: www.sunshinecoastpride.com.au or www.facebook.com/sunshinecoastqldpride for details.
Image: courtesy of the Sunshine Coast Pride Network