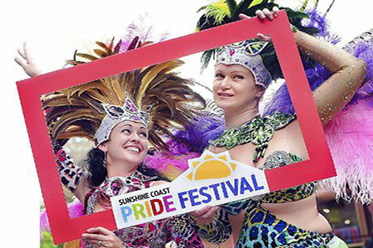 Now in its 6th year, the Sunshine Coast Pride Festival is 3 days of activities, artists, venues, parties and film, with a diverse line-up ranging from folk to dance musicians, intense energy DJ and Drag Queens all celebrating the gay community.
The festival's theme this year is "Celebrating Diversity" which is all about celebrating difference, as well as common interests, to help overcome ignorance and prejudice, while creating great communities enriched by respect, dignity and inclusiveness.
This celebration began in 2008 and from its humble beginnings has grown to become a three day Festival, covering four events. In 2013, Sunshine Coast Pride Festival was the only regional event held outside of Brisbane nominated for "Best Annual Event" at the Queen's Ball Awards. The Sunshine Coast Pride Festival is now the largest Pride event for the gay community in Queensland outside of Brisbane.
This year sees Fair Day at its new home The Original Eumundi Markets and the inclusion of a Pride Trail, which lists stallholders that specifically want to support the Festival. In addition to the Pride Trail, there will be the Pride Fair Day space at the Eumundi Amphitheatre featuring a range of commercial, not-for-profit and health promotion stalls including Gay and Lesbian Tourism Australia (GALTA), Queensland AIDS Council, Dykes on Bikes, Tourism Noosa and the Sunshine Coast Rainbow Network.
For the second year, the Sunshine Coast Pride Festival will recognise three special individuals who have made a significant contribution to the local and broader community. The recipients: Local Hero Award – Ricki Menzies; Lifetime Pride Award – Shelley Argent OAM; and Pride Spirit Award – Anna Bligh will be presented at a special ceremony at Fair Day.
The festival's theme of 'diversity' is reflected in the activities for all age groups and interests, with international, national and local artists – chill to the folk tunes of The Flumes; dance up a sweat to the dance tracks of Danielle DeLaite; see Kristy Apps and the Shotgun Shirleys, an all-girl folk and acoustic band; Emma Wall & the Urban Folk; Sydney-based DJ Shanobear and more.
Other events over the weekend include: the Pride Film Night screening Gen Silent and Queen of the Desert at the Nambour Arthouse Cinema on Friday 21 February; Pride After Party at the Reef Hotel Noosa on Saturday 22 February; and Pride Chill Out at the Eumundi Amphitheatre on Sunday 23 February.
For more information and full programme, visit: www.sunshinecoastpride.com.au for details.
Image: by Lisa Sista Photography