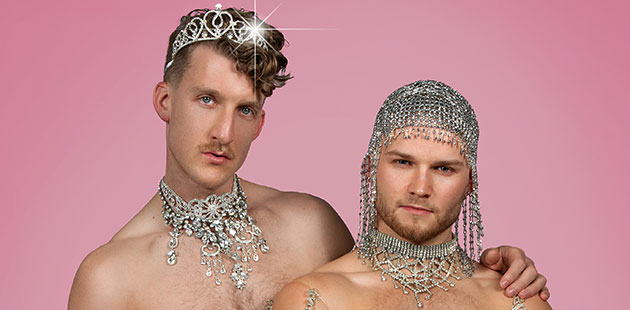 A boylesque revue that delves into the world of the sugardaddy/sugarbaby phenomenon, Smoke & Mirrors Productions presents Sugarbabies: A Boylesque Musical at Perth's Pride WA Festival before heading to Adelaide's Feast Festival this November.
The stunning Ziegfeld Boys tell the story of two sugarbabies who are on a quest to find their sugardaddies and the lavish lifestyle that comes with them. The show is a brilliant blend of old world burlesque, musical theatre and clever comedy, dusted with plenty of glitz and sparkle.
It features gender swaps of some of the sexiest songs of the 20th Century including: Big Spender, Diamonds are a Girl's (Boy's) Best Friend, My Heart Belongs to Daddy and many more! Not suitable for those who don't want to see gorgeous boys showing plenty of skin!
Glorifying the homosexual boy, the Ziegfeld Boys pay tribute to the decadence, grandiosity and beauty of the great Ziegfeld Follies, whilst giving a fresh take on the genre. Choreographed by Rhys Velasquez, the boys are played by Josh Sanders (Glorious, Annie, The Full Monty) and Jack Wunsch (Priscilla Queen of the Desert).
Sugarbabies was written by Josh Sanders who wanted to use the genre of Burlesque to tell a story and create a cohesive show with plot, characters and a strong theme. In the process, Sanders was keen to make some of these sexy classic songs relevant for a modern audience.
---
Sugarbabies: A Boylesque Musical
Connection Nightclub, 81 James Street, Northbridge (Perth)
Performances: 13 and 15 November 2019
Bookings: www.trybooking.com
Tandanya National Aboriginal Cultural Institute, 253 Grenfell Street, Adelaide
Performances: 21 and 23 November 2019
Bookings: www.feast.org.au
For more information, visit the Smoke & Mirrors Facebook Page for details.
Image: The Ziegfeld Boys (supplied)