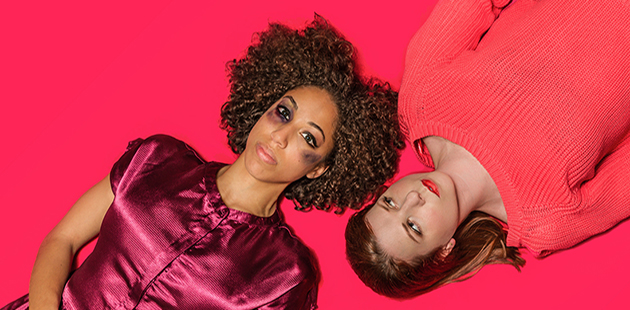 After launching themselves into the Melbourne Independent theatre scene with past productions Edges, Dog Sees God: Confessions of a Teenage Blockhead and The Pavilion, Boutique Theatre commence their 2015 season during the Midsumma Festival with another Melbourne premiere; Diana Son's much lauded Stop Kiss.
When reclusive Callie, a New York traffic reporter, promises to take a cat owned by Sara, "some friend of an old friend of someone", she never imagines where it will lead. The two women soon become close friends and although both are "straight" as they get to know each other an unspoken attraction pulls them closer, and finally they kiss.
One innocent kiss while walking through the West Village late one evening. A kiss that sets off a savage gay-bashing…
But even as Stop Kiss confronts the reality of this raw, violent act, Diana Son's imaginative, moving, and surprising comedy takes her characters and audiences to unexpected places. The play places a brutal attack at the centre that serves both an indictment of hatred, and also a moving study of the perils inherent in living life fully.
Stop Kiss premiered at New York's Public Theater in 1998 to much critical acclaim, with its season being extended three times due to popular demand. The playwright, Diana Son, went on to write several more successfully produced plays, and also moved into television, becoming a writer/producer for the series Blue Bloods, Southland, Law & Order: Criminal Intent, and The West Wing. Stop Kiss won the GLAAD Media Award for Best New York Production and Diana Son, the Berilla Kerr Award for playwrighting.
Boutique Theatre are fast becoming known for presenting works that are fresh, engaging and unique. Tackling little known plays with big heart, the company have well and truly stamped their mark on the Melbourne independent theatre scene, and will continue to do so throughout 2015 with a planned season of four plays.
The only production during the 2015 Midsumma Festival that examines a lesbian relationship and gay hate crimes in this way, Boutique Theatre's production of Stop Kiss promises to be a powerful Melbourne premiere season.
Director: Byron Bache  Featuring: Cazz Bainbridge, Tamiah Bantum, Thomas Kay, James Rosier, Mathew Young, Lindy Yeates  Set Design: Nick Casey  Costume Design: Nico Wilsdon  Lighting Design: Matt Osborn
Stop Kiss
Brunswick Mechanics Institute, 270 Sydney Rd, Brunswick
Season: 22 January – 7 February 2015
Bookings: (03) 9415 9819 or online at: www.midsumma.org.au for details
For more information, visit: www.boutiquetheatre.com.au for details.
Image: Tamiah Bantum and Cazz Bainbridge – photo by Bodie Strain