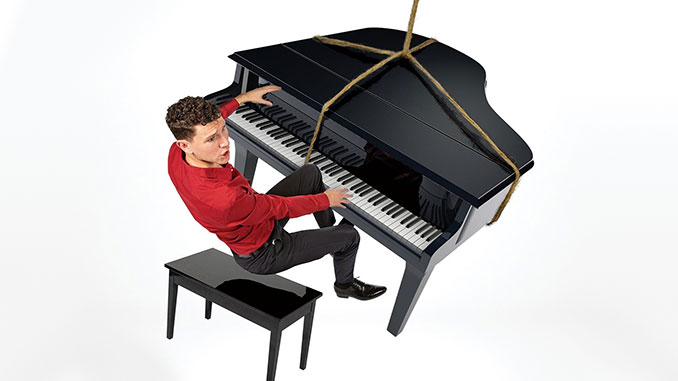 He's performed with Paloma Faith, Kate Ceberano and Sheridan Harbridge and now Steven Kramer will have the stage all to himself with the Melbourne premiere of his solo show Don't Make Me Play Piano Man at fortyfivedownstairs from 30 April 2021.
"I've spent my career making other people look good, so I decided it was time to make myself look good," laughs the musical director of acclaimed Sydney productions such as Gordon Frost Organisation's Chicago, Hayes Theatre's Catch Me If You Can and Evie May and Squabbalogic's The Dismissal.
Don't Make Me Play Piano Man will bring Steven back to Melbourne audiences with a show that celebrates the world's great piano stars as he performs the eternal piano hits of the greats. Well, most of them, as Steven will happily play Elton John, Carole King and Peter Allen, anything but THAT Billy Joel song.
With Don't Make Me Play Piano Man, the Sydney Conservatorium of Music graduate will showcase his cheeky, irreverent humour in a show that celebrates his up and down relationship with the piano and some of the instrument's superstars.
"The show is a love letter to all the piano men and piano women of history: Carole King, Nina Simone and Elton John," says Steven. "During Covid, a lot of artists had to make a decision whether to keep going or give up."
"The show treats the piano like a romantic partner. Do I continue the relationship or pack it in? I meet the piano as a kid in the show and fall for it, settle down with the routine of it all. Then there are the break ups and the make-ups and then there is THAT song."
What is it about THAT Billy Joel song? "I wanted the challenge of doing a show that paid tribute to piano men without doing the one song that everyone would be expecting," says Steven.
"That song is a piano-bar cliché at this point, and when you're trying to rekindle a relationship the last thing you want is to be doing the same old thing you've always done. But who knows? I might change my mind."
Midsumma Festial audiences will just have to check out Don't Make Me Play Piano Man to find out if he'll play THAT song.
---
Steven Kramer: Don't Make Me Play Piano Man
fortyfivedownstairs, 45 Flinders Lane, Melbourne
Season: 30 April – 2 May 2021
Information and Bookings: www.fortyfivedownstairs.com
Image: Steven Kramer – photo by Chloe Snaith