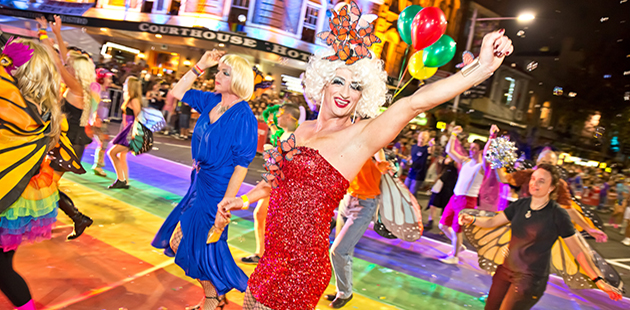 Step right up and don't miss one of Sydney's most colourful, outrageous and fantastically fun annual events, as the Sydney Gay & Lesbian Mardi Gras Parade comes to town on Saturday March 7 2015!
The best way to experience the vibrancy of the entire parade and a must for the events most loyal fans, as well as those who are up for a night they'll never forget, Parade Sideshow is a spot where you can soak in the spectacular Parade – right in the thick of it on Flinders Street.
Parade Sideshow ticketholders will have a great view of every sequin, feather and stud in the whole Parade. With exclusive access to bars, food stalls, screens capturing all the action, witty celebrity hosts, precious bathrooms, and seating for when the feet need a rest, Parade Sideshow will deliver the ultimate parade viewing experience.
"Parade Sideshow is the best way to enjoy all the sparkle and magic of the Mardi Gras Parade," says Sydney Gay & Lesbian Mardi Gras CEO, Michael Rolik. "It's a wonderful way for all kinds of people to come together in a friendly, accessible space to celebrate Mardi Gras."
"It doesn't matter who you are, whether you're a Sydney-sider or a tourist; old, young and families – everyone is welcome to join in the party at Parade Sideshow."
In addition to Parade Sideshow, 2015 will see the return of The Diamond Club – a reserved viewing area and outdoor club-style experience for Members of Sydney Gay and Lesbian Mardi Gras.
For more information, visit: www.mardigras.org.au for details.
Image: Mardi Gras Parade – photo by Hamid Mousa