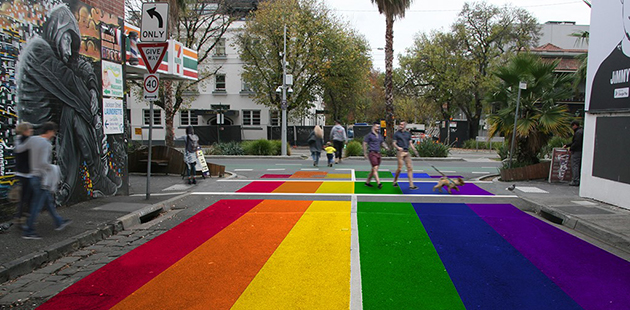 A St Kilda Street will soon be transformed into a rainbow road as a show of support for diversity and inclusion. Port Phillip Council voted this week to paint a rainbow flag along Jackson Street, a Council-managed road in the heart of the Fitzroy Street Precinct.
Work on painting the flag along 35-metres of Jackson Street, up to the intersection with Fitzroy Street, is expected to start about late August and will take about four days. Once completed, the rainbow road can be enjoyed by visitors, residents and selfie fans for at least two years.
Acting Mayor Dick Gross said St Kilda's long-standing history with the LGBTIQ community, including the annual Midsumma Pride March along Fitzroy Street, makes it a perfect setting for a rainbow road. "Jackson Street is also adjacent to where the Victorian Pride Centre will be built, so this is another way of recognising the past – and future – contributions of the LGBTIQ community to our City," said Mr Gross.
Cr Gross said the colourful new landmark will also attract more people to St Kilda and further raise the Fitzroy Street Precinct's profile as a visitor destination. "The Fitzroy Street Business Association supports a rainbow road," he added. "And this very public celebration of diversity and inclusion reflects the Melbourne Ports electorate's support for the LGBTIQ community with 82 per cent voting 'yes' in one of strongest votes for marriage equality in Australia last year."
Council will letterdrop local traders and residents before the works to inform them of traffic management arrangements and to give them the opportunity to ask questions. The rainbow road will cost $28,000. The paint meets VicRoads' standards and care will be taken to ensure road markings are not obscured. Local access to Jackson Street will be retained during the works to minimise disruption.
Image: Artist impression of the rainbow road on Jackson Street (supplied)