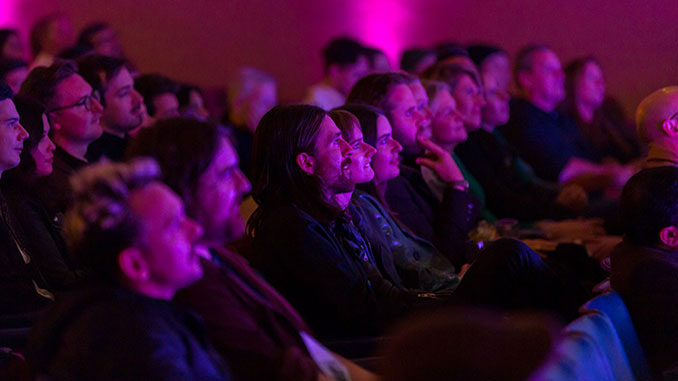 St Kilda Film Festival (SKFF) has announced the full 2023 program including Australia's top short films, which is set to be the biggest ever festival in 39 years.
Presented by City of Port Phillip the program features more than 100 films to be shown over 18 screening sessions at venues across St Kilda, and for the first time also bursting out of St Kilda and into South Melbourne. The famous opening night event will return to The Palais on Thursday 1 June, welcoming back full capacity crowds for the first time in four years.
Drawn from a call for entries from hundreds of new short films from around the country, this year's red-carpet opening night gala event features a sensational program of comedies, powerful drama, animation, horror and fantasy, emceed by the hilarious Claire Hooper. The screening will be followed by an after party which expands into Encore at St Kilda Sea Baths for a spectacular celebration of Australian short films.
This year's program will take audiences on an incredible journey through some of Port Phillip's iconic theatres including The Palais Theatre, The Astor Theatre and the Alex Theatre, as well as through many other creative and welcoming spaces throughout St Kilda and South Melbourne – both well-known hubs for the filmmaking community as well as fabulous destinations to eat, drink and celebrate.
In 2023 SKFF has drawn entries from an almost equal split of female and male directors and the festival is very privileged to be able to screen the work of these Australian filmmakers and showcase so many stories. Program highlights include:
Melbourne on Dylan (director Chris Franklin) – The Australian premiere of this documentary delves into Bob Dylan's connection with Melbourne and explores the deep love of music we all have and the life- changing moments that start us on the long journey of exploration and appreciation.
MumLife (director: Ruby Challenger) – This musical follows Sarah, a first-time mother from Sydney, who is struggling to connect with her newborn baby. She is pushed to her limits when she discovers a surprise birthday party has been organised for her 30th by her Insta-famous bestie.
Run South (directors: Frank Magree, David Cleeve) – An Australian soldier is held captive during the Vietnam war. A young marine enters his world, presenting him with a harrowing choice.
Hen (director: Alice Tovey) – When non-binary Gem attends their mate's hen's night, the girls turn from bubbly bridesmaids to raunchy demons. Gem could never have known just how far they would get under their skin.
Gravel Road (director: Tristan Pemberton) – This documentary follows an eventful tour through the outback of Western Australia by the world's most remote rock band, Desert Stars. This award-winning feature length documentary presents an engaging chronicle of an Indigenous rock band that fuses Traditional Aboriginal Culture with Western Rock 'n' Roll as they embark on their debut tour across the outback. This is a highlight event as part of the First Nations program held at The Espy.
Blockhead and Sparkles and the Flood of Tears (directors: Lauren Orrell, Digby Webster) – Best friends Blockhead and Sparkles are struggling under the pressure of running their own cake shop, but when the Sad Prince's tears threaten to flood the entire village, they must do what they can to mend their friendship and save the day.
All the familiar favourite showcases and programs are back for 2023 to take audiences on a diverse journey through the medium of short film, including:
Australian Comedy Showcase is back for a mighty good dose of surreal headspace, absurd situations, idiot mate-ship, an art director's dream and recipes for disaster. These are excellent pieces and a fun glimpse of that special twist of weirdness Aussie humour is known for.
Victorian Pride Centre once again hosts the LGBTQIA+ program, Pride Without Prejudice. After selling out at last year's SKFF, this program is back with a wonderful showcase of short films full of heart, strength, and vitality.
Dark Matters (presented by Crumpler) is always one of the most popular sessions in SKFF, exploring the sinister boundaries of Aussie horror. The horror of the horror may be just too horrific for most horror fans!
International Family Animation Explosion (presented by Indomie) is curated for families and kids of all ages by the director of the Melbourne International Animation Festival, Malcolm Turner. Expect a fantastic collection of new animations drawn from around the world.
Australian Documentary Showcase highlights a phenomenal year for Australian short documentary. This excellent series of films shuttles backwards and forwards in time and technology as we're twice taken to space, the core of the 1960s hippy movement from Melbourne and many more weird and wonderful journeys.
Crime & Punishment is full of great documentary portraiture, tough suburban drama, a dash of fantasy and a splash of comedy.
Brave New Worlds: Australian Cinematic Visions showcases the level of creative ambition in this year's festival. This series features striking imagery and bold brush strokes that are equally impressive and inspiring. Expect to be astonished at every turn, exploring form, genre and narrative structures.
Australian Drama Showcase highlights how the past few years have seen filmmakers really hone their skills in constructing and telling stories to explore small and profound interactions. In part 1 of this 2-part dramatic program,
expect striking, personal stories, First Nations' experiences, lonesome roads and tender moments.
Shifting the Gaze is a collaboration with Women in Film & TV, featuring a dazzling array of new films made by women. This cracking session covers the works from social justice animation, powerful social comment, musical, striking minimalism and tales from far flung front lines very finely drawn.
Australian Animation Showcase has always taken pride of place at SKFF. This program is packed with a variety of animated styles and forms, from quiet poetic beauty to heart-breaking animated documentary to medieval sorcery and mischief. It never stops surprising and is guaranteed to get people talking.
Under the Radar is a SKFF competition showcasing the 10 best short films from young filmmakers across Australia, assessed, judged and organised by the City of Port Phillip FReeZA committee, who themselves are talented young creatives. The winner receives $1,000 prize money and the encouragement to keep creating and honing their craft. Under the Radar aims to support and elevate young people interested in pursuing careers in the arts.
Tales of Mystery and Imagination is one of the SKFF director's favourite programs. This year's journey through sci-fi and fantasy is a mix of vision, colour and sheer guts and glorious filmmaking. These works tell stories of spirit stones, parallel times, off-world intrigue and solitary prison life.
Two of a Kind: Tandem Tales is a testament to the strength of scripts and directorial deftness of their creators.
Acoustics, Abstractions & Esoterics Showcase a high-level of experimentation, risk and ambition in this year's program. These works are unique in form, style and intent and push audiences all the way.
Made in Victoria session #1 and #2 (presented by VicScreen) are packed with animations, twisted comedy, breath-taking visualisation and sparkling dramatic turns. This is an evening not to be missed on the local screen calendar and coupled with the Awards Ceremony and Networking Event on Sunday 11 June, is the perfect way to close out the 2023 program.
"We can't wait to welcome back full capacity audiences for our biggest ever year," said Richard Sowada, SKFF Director. "Audiences can look forward to an expanded program across St Kilda and beyond bringing short films to where people live."
"We're embracing adventure and ambition and amplifying voices from all corners of the country. The festival embraces a range of traditional film forms and new and emerging ones including computer games, table-top games, VR and everything between to celebrate Victorian achievements in film."
Now in its 39th year, St Kilda Film Festival (SKFF) is Australia's longest-running short film festival, recognising the genre of short film, including music videos, gaming and immersive forms, celebrating some of Australia's best local short filmmakers and screen artists.
---
St Kilda Film Festival (SKFF) returns to the big screen across Thursday 1 June – Monday 12 June 2023. For more information on screenings and bookings, visit: www.stkildafilmfestival.com.au for details.
Image: St Kilda Film Festival Audience (supplied)