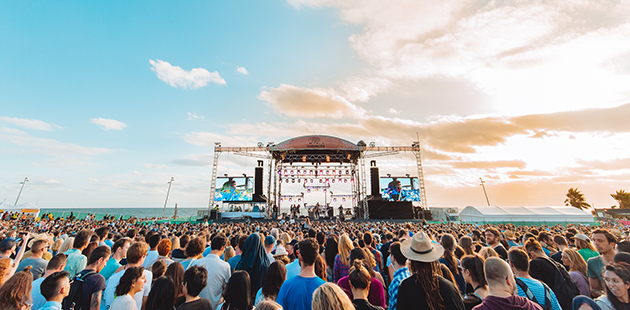 Port Phillip Council has announced it has suspended its 2021 St Kilda Festival as safety and restriction uncertainties continue to surround the COVID-19 pandemic.
Mayor Bernadene Voss said the $1.7 million in savings will be quarantined and spent on economic and cultural recovery initiatives when restrictions ease.
Australia's biggest free festival – which attracts more than 400,000 attendees – had been scheduled to celebrate its 41st year on Sunday 14 February 2021.
With the picturesque foreshore as a backdrop, the much-loved event showcases fantastic homegrown live music talent across several stages as well as offering food and drinks, markets, performances, carnival rides, a children's play area and activities run by community groups.
"The St Kilda Festival will be missed next year – but not forgotten," said Cr Voss. "Our intention is to come back bigger and better than ever in 2022. In the meantime, this gives us an opportunity to reimagine the Festival for 2021 and look at funding a range of options which can be enjoyed when restrictions have eased."
"The criteria as to how the funding will be allocated is yet to be confirmed. We are exploring lots of ideas, such as a series of mini-events across Port Phillip," she said.
The St Kilda Festival attracts an estimated $20 million annually to the City of Port Phillip, with attendees also taking the opportunity to enjoy venues on nearby Acland and Fitzroy streets.
Cr Voss said Council postponed making a decision as long as it could as the Festival would have provided much-needed support for many local traders and performers hard-hit by the pandemic.
"With the current restrictions and uncertainties extending into next month, and financial and booking commitments for a Festival required now, we sadly felt this was the best option," she said.
Since 1980, the St Kilda Festival has played host to over 1,500 bands and helped launch the careers of many Australian musicians. Performers to have appeared at the Festival include Cat Empire, Daryl Braithwaite, Hunters and Collectors, Kate Miller-Heidke, Killing Heidi, Missy Higgins, Paul Kelly, Kate Cebrano and Spiderbait.
---
The St Kilda Festival will return in February 2022. For more information, visit: www.stkildafestival.com.au for details.
Image: St Kilda Festival Main Stage – photo by Nathan Doran