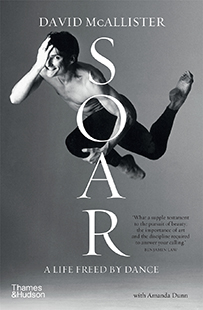 Fifty years since he stepped into his first ballet class, David McAllister reflects on his dance journey, his relationships, embracing his sexuality, and the combination of talent, timing and sheer perseverance that gave rise to his transformative career in Soar: A Life Freed by Dance.
McAllister has always belonged onstage. As the middle child in a Catholic family who knew nothing about dance, he watched himself twirl in the reflective glass of the TV and dreamed about becoming the next Rudolf Nureyev.
As a little boy taking ballet lessons, he was mercilessly bullied. As a young man joining the ranks of The Australian Ballet, he worried that he would never play the prince because he lacked the height and lean limbs of a classical dancer. Every time he heard 'no', he simply did what he loved – danced.
Sure enough, curtains rose for the unlikely prince: he represented Australia on the world stage; he became a principal dancer and performed his dream roles; he fell in love, onstage and off; and he enjoyed a twenty-year tenure as artistic director of The Australian Ballet, transforming it into one of the top flagship dance companies in the world.
Born in Perth, David McAllister joined The Australian Ballet in 1983 and was promoted to principal artist in 1989. During his time with the company, he danced many principal roles, including those in The Sleeping Beauty, Don Quixote, Coppélia, Manon, La Sylphide, John Cranko's Onegin and Romeo and Juliet, and Jirí Kylián's Stepping Stones; in 1985, he won bronze at the Fifth International Ballet Competition in Moscow.
Throughout his career, McAllister made numerous guest appearances worldwide, dancing with Bolshoi Ballet, the Kirov Ballet, the Georgian State Ballet, The National Ballet of Canada, Birmingham Royal Ballet, Singapore Dance Theatre and, in 1992, as part of a Royal Gala performance in London in the presence of the Princess of Wales.
In 2000, he completed a Graduate Diploma in Arts and Entertainment Management and in 2001 took his final bow as a dancer. In July of that year, McAllister became artistic director of The Australian Ballet. He was awarded a Member of the Order of Australia in the 2004 Australia Day Honours List.
In 2015, he premiered a new production of The Sleeping Beauty for The Australian Ballet. In 2020, McAllister will step down from his current position to take on freelance staging and choreographing ballets. He will be staging a new production of Swan Lake for the Finnish National Ballet in 2021.
Amanda Dunn is the politics and society editor for The Conversation. Prior to that she was a reporter and editor with The Age for sixteen years.
---
Soar: A Life Freed by Dance is published by Thames & Hudson Australia and available from all leading book retailers including Booktopia.
Image: Soar: A Life Freed by Dance – courtesy of Thames & Hudson Australia