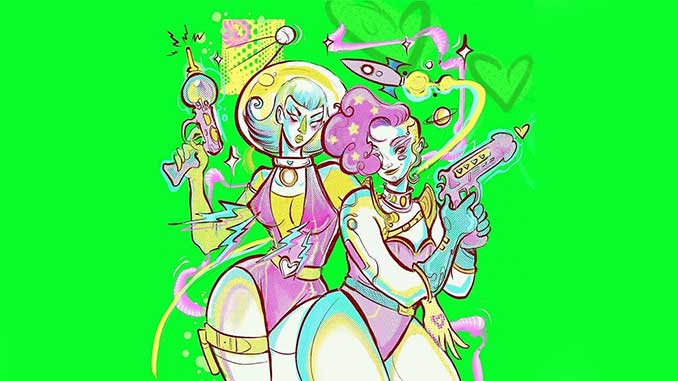 Get ready for lift-off as Mira Ball productions presents the premiere of SLUTNIK™ at Theatre Works in February as part of 2022 Midsumma Festival.
Exploring themes of gender, sexuality, autonomy, and sex, SLUTNIK™ is, above all, a gay glitter fantasia. Think pink, space, sex, riotous fun, and (of course) cannibalism.
Directed by Tansy Gorman and with a script by award-winning playwright Flick, teamed with dramaturg Enya Daly, SLUTNIK™ is a love letter to queer relationships and friendships. This work has had several developments with majoritively queer collaborators, and finds its anchor in joy.
"At its heart, it's a celebration. Foremost, it's for queer women and non-binary people and by queer women and non-binary people," said Flick, Playwright. "Usually, revolutions are bloody, but we think they should be sexy."
Flick's work is deeply moving and fresh. SLUTNIK™ marks their debut full-length play to be performed at Theatre Works mainstage. A queer glitter bomb of an event where men are from mars and women are eating them.
Rather than begin a violent crusade against those that have wronged them, a group of radical lesbians have said a big 'fuck you' to planet Earth, vowing to find a planet less hostile to the female existence.
There are just a few days 'til liftoff, and motherboard has initiated very important (and very importantly gay) training before their intergalactic travels.
They've not given away their location… but rumour has it that they'll spend the first few weeks living on the flesh of selected male officials and that they're headed by absolute icon Jane Fonda (in her Barbarella costume, obviously).
Playing for a limited season, SLUTNIK™ is a space adventure you want to be a part of. Don't forget to board this ship at Theatre Works.
Flick (all pronouns) is an interdisciplinary artist living and working in Naarm (Melbourne), currently completing their Master of Theatre (Dramaturgy) at the VCA.
They are at their happiest in any creative space where the energy is the marriage between (biodegradable) glitter bombs and intellectual chaos; think conspiracy theories in gogo boots and political revelations covered in sequins.
Their written repertoire has been produced by theatre festivals in Sydney and Los Angeles, and developed by theatre companies such as Australian Theatre for Young People (ATYP), Nightingale Content, and Queerspace Arts. They have a special interest in queer, genderdiverse, and neurodiverse storytelling.
Director: Tansy Gorman | Performers: Anastassia Krstevska, Vitoria Hronopoulos, Veronica Pena Negrette, Myfanwy Hocking, Olivia McCleod, Jett Chudleigh | Dramaturg: Enya Daly | Set & Costume Designer: Caitlin Johnston | Sound Designer: Danni A. Esposito | Stage Manager: Ashleigh Walwyn | Playwright & Producer: Flick
---
SLUTNIK™
Theatre Works, 14 Acland Street, St Kilda
Season: 1 – 5 February 2022 (extra performance added Saturday 5 February)
Information and Bookings: www.theatreworks.org.au
Image: SLUTNIK™ – by Cynthia Sobraty