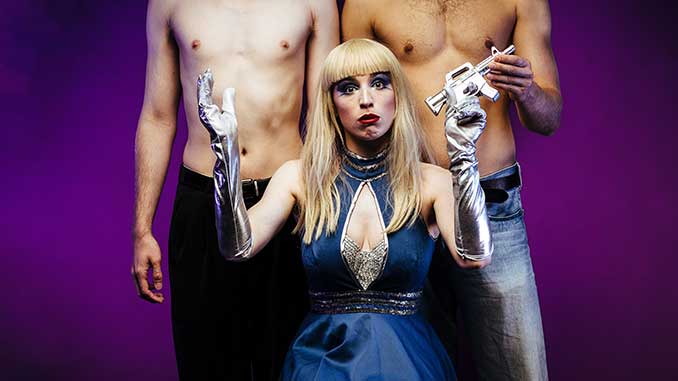 Get ready for touchdown. Queer darling SLUTNIK™ (created by Flick) returns with its highly anticipated sequel, SLUTNIK™ 2: Planet of the Incels, premiering at Theatre Works St Kilda, this September.
More than a century ago, a legendary crew of lesbian space cannibals triumphantly left Earth and all of its problems behind. Today, their descendants (and MOTHERBOARD) are forced to emergency land their battered star-ship onto a foreign planet and come face-to-face with all the problems they thought they had left behind: Men.
Prepare for an intergalactic battle of slutty proportions.
This sequel has all the excitement of the smash-hit original, with a never seen before and never-to-be-repeated stunt in the SLUTNIK™ universe: an ensemble of men on stage.
Planet of the Incels is a politicised Magic Mike, a sexy Louis Theroux documentary, and an ode to retro-futurism, 70s and rhinestone cowboys.
SLUTNIK™ is not just a show; it's a world. Looking to both the franchising of cinematic universes, as well as the ring cycles of opera – SLUTNIK™ is a theatrical answer to fan bases, worldbuilding, and the partnership of irreverence and longevity.
Exploring themes of gender, sexuality, autonomy, and sex, SLUTNIK™  is, above all, a slutty spectacle. In this instalment, the exorbitant riot lends its lens to the pinnacle of violent misogyny: the cult of incels.
Planet of the Incels marks the beginning of a planned four-show expansion of SLUTNIK™. Creator Flick experiments with a theatrical summit into a multi-chapter universe, using imagined worlds as active practice possibilities. 
Whilst embodying the high-concept design from its predecessor, this sequel uses verbatim texts from online forums, documentaries, and real life events in order to reveal the too-oft hidden bolsters of gendered violence; violently misogynistic communities.
SLUTNIK™ embraces sci fi as a future-facing genre, allowing us to play with philosophical and scientific potentials in an expansive way. The SLUTNIK™ universe has and always will be about the tension between the weight of our past and the weight of our potential, with a firm hand steering us in the direction of active change and hope.
In this sequel, the sluts cannot escape as easily as in the first show, and neither can we. The work, in turn, asks what can we do? In lieu of a big rocket ship to escape in, what is our answer to unspeakable violence? What is our responsibility?
Created by award winning playwright Flick and directed by critically acclaimed Tansy Gorman, SLUTNIK™ once again teams with dramaturg Enya Daly and crowd favourite Matilda Gibbs to reprise her role of MOTHERBOARD. 
SLUTNIK™ 2: Planet of the Incels is a space adventure you do not want to miss out on. WARNING: Bring an umbrella, because it's raining men.
"Theatre may never be the same." – The Age
Creator: Flick (they/them) | Director: Tansy Gorman (she/her) | Featuring: Matilda Gibbs (she/her), Sara Reed (she/her), Ben Ashby (he/him), Ethan Morse (he/him), Michael Cooper (he/him), William Strom (he/him) & Benji Smith (they/he) | Script & Production Dramaturg: Enya Daly (she/her) | Research Dramaturg: Max Tassell (he/him) | Choreographer: Mia Tuco (she/her) | Production Manager: Harry Dowling (he/him) | Production Design: Tansy Gorman, Harry Dowling | AV Design: Derrick Duan (they/them) | Stage Manager: Jemma Law (she/they) | Sound Design & Composition: Jack Burmeister (he/him) | Lighting Design: Georgie Wolf (she/her) | Costume Design: Emily Busch (she/her) | Producer: FLICKFLICKICTY
---
SLUTNIK™ 2: Planet of the Incels
Theatre Works, 14 Acland Street, St Kilda
Season: 8 – 16 September 2023 (preview: 7 September)
Information and Bookings: www.theatreworks.org.au
Image: SLUTNIK™ 2: Planet of the Incels (supplied)